Crystal Lake, IL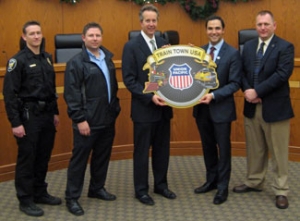 Crystal Lake was established in 1840 after early settlers Beman and Polly Tuttle Crandall discovered fertile prairie and tall timber surrounding a sparkling clear lake 43 miles northwest of Chicago. As the Chicago, St. Paul & Fond du Lac Railroad built northwest from Chicago towards Janesville, Wis., it chose a route that passed Crystal Lake to the northeast. The town of Nunda was established nearby in 1854 along the rail line and it quickly became the commercial hub of McHenry County.
The Fox River Valley Railroad, building north from Elgin along the Fox River to connect with other rail lines at the Wisconsin border, arrived at Nunda in 1855, bypassing Crystal Lake as well. A branch was built in 1856 from Nunda to Crystal Lake so that ice, cut from the pristine Crystal Lake, could be shipped to Chicago. The towns grew closer together and eventually merged in 1911, keeping the name Crystal Lake. The two rail lines came under ownership of the Chicago & North Western and Crystal Lake remained a hub of rail activity.
Union Pacific merged with the C&NW in 1995.