Del Rio, TX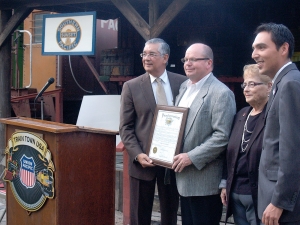 L to R: Del Rio Mayor Robert Fernandez; UP Superintendent Mike Brazytis; Whitehead memorial Museum Exec. Director Lee Lincoln; and Del Rio Chamber President Al Arreola.
Union Pacific, and the history of the railroad in Del Rio, have been significant in local economic development, especially as it related to transporting our wool and mohair. At one point Del Rio was declared the Wool and Mohair Capitol of the World, and this by and large was possible only with rail infrastructure. In that same spirit, Del Rio continues to benefit from this important transportation option.
As it related to tourism, the railroad was the fastest and safest way to travel in the West Texas lands. Even recently programs like "Trails and Rails" have proven to still show the relevance of this type of transportation to the area.