Denison, TX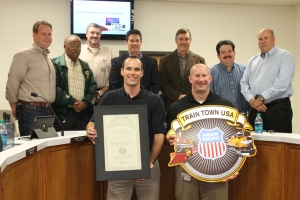 L to R: (Top) Mayor Pro Tem Matt Hanley, Councilman Bill Malvern, Councilman Jim McClure, Mayor Jared Johnson, Councilman Ken Brawley; Councilman Michael Baecht; Councilman David Spindle; (Bottom) Clint Schelbitzki, UP director-Public Affairs, Todd Custer, UP manager-Train Operations.
The roots of Denison run deep, and the crisscrossing tracks of the railroad that founded the town stand as a testament to the years of history made in this Texas jewel. hey called the town "Katy's Baby" in the beginning as the Missouri-Kansas-Texas Railroad established Denison as a rail head just south of the Red River in the winter of 1872. Within days, 3,000 people established Denison as their home. Steam engines came and went. Diesel engines pulled mountains of cargo to and from the rail yards of Denison. It was a railroad town.
It was on March 20, 1873, that the first Houston & Texas train rolled into the wooden station in Denison, signifying the moment the entire United States was linked by rail for the first time. The joining of the Central and Katy tracks in Denison at that point meant the whole of the country -- north, south, east and west -- were joined for the first time with those steel bands of the railroad.
Within a few years, Denison became one of the busiest and most important transportation centers in the state of Texas. Early train car refrigeration was pioneered in Denison, which helped supply good beef to a hungry nation.
Through the years, the Katy Railroad (M-K-T) played an important role in the development and growth of Denison. As the railroad flourished so did the city. The rail brought several Presidents to our community and served as the hub for passenger trains, and movement of product for our local industries.
The M-K-T merged with Union Pacific Railroad on August 12, 1988, and the Katy headquarters that had been in Denison for many years were moved to Kansas. The loss of many jobs created a major economic impact on the community but the Union Pacific pledged its support to the Denison leadership and the continuation of the great rail service that Denison has been known for throughout the years. The UP made a significant impact by donating thousands of dollars to be used for new job creation as well as several acres of land to be used for location of new industry for the community. UP has continued as a viable partner with the city on many projects and true to their word has maintained rail service in Denison.
The Katy Depot building located at 101 East Main which once served as the ticket office and railroad station, is now privately owned and houses several businesses and in addition the Katy Railroad Museum is located in the building and has a wealth of information and memorabilia detailing Denison's history with the railroad industry.