Dupo, IL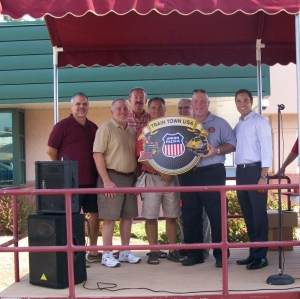 (L to R:) Mark Nadler, Village Clerk; Trustees - Joe Basinsky, ID Cleveland, Ken Phillips, Rich Bright; Dupo Mayor Ron Dell; and Adrian Guerrero, UP director - Public Affairs.
In 1903 the St. Louis Iron Mountain Railroad Company bought all of the property of the St. Louis Valley Railroad. Later, the Missouri Pacific, owned by Jay Gould, added the Iron Mountain Railroad to its corporation and its employees lived between Bixby and the Prairie du Pont region. The name Prairie du Pont eventually was shortened to Dupo. When the Bixby area became too small, the company decided to build a larger complex and opened its new facility in 1910
The town of Dupo was laid out in 1905 and grew from a settlement as the Missouri Pacific shifted its operations to our area. Our community of Dupo has grown and prospered and today, finally with the Union Pacific Railroad, has become a vital part of Saint Clair County and the heartbeat of the Saint Louis Metropolitan area. Our Village appreciates the heritage of the Union Pacific Railroad.