Elburn, IL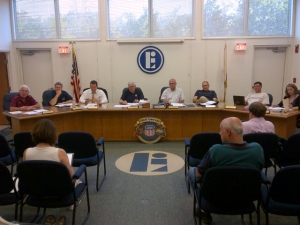 Elburn Village Board Chambers shows off the Elburn Train Town shield.
Train service began through the Village of Elburn with the completion of the rail line in 1854 by the Galena and Chicago Union Railroad, before the town was incorporated. It was used for the transportation of goods as well as commuting purposes. A second main line track was completed in 1899 by the Chicago & North Western Railway.
One of the largest customers of the railroad in Elburn was the livestock yards, taking animals from the Village depot to the Chicago stockyards. As years passed, the livestock yards closed and then the depot closed after commuter service was discontinued.
Union Pacific merged with the C&NW in 1995. In 2005, a third main line track was constructed and the following year Metra reinstated commuter service between Elburn and Chicago.