Grand Junction, CO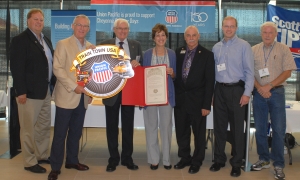 Second from left: Bob Turner, Union Pacific SVP-Corporate Relations; and Grand Junction City Council members Sam Susuras and Teresa Coons; Ray Beck, CLUB 20 Membership Chair, Craig City Council member; Michael Bernstein - UP Sr. MTO; and Paul Brown, Mesa County
The railroad began surveying possible rights of way through what was only a settlement back in 1881. Then, in 1882, shortly after Grand Junction incorporated, the Denver and Rio Grande Western Railroad (D&RGW) completed the rail line through Grand Junction in 1882.
The D&RGW purchased the Southern Pacific (SP) in 1988 and operated under the Southern Pacific name. Union Pacific merged with the SP in 1996.
Second from left: Bob Turner, Union Pacific SVP-Corporate Relations; and Grand Junction City Council members Sam Susuras and Teresa Coons; Ray Beck, CLUB 20 Membership Chair, Craig City Council member; Michael Bernstein - UP Sr. MTO; and Paul Brown, Mesa County The railroad provided Grand Junction with much more than just transportation. In addition to the Colorado (at that time named the Grand) and Gunnison Rivers, the railroad was one of the most important factors in the development of Grand Junction. It had a hand in transforming the town into the regional business and service hub it still is today.
Even now, the Union Pacific continues to play a key role in our regional significance as well a community transportation partner.