Marysville, KS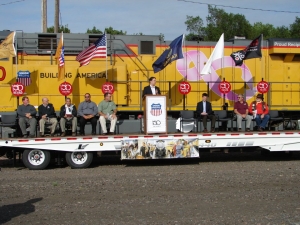 (L to R:) UP Employees Clinton Day, Rick Durant, John Allberry, Tony Orr, Mike Russell and Ben Jones (speaking); Steve Howe - deputy districk director to Congressman Huelskamp; Marysville Mayor Bill Phillipi, and Fred Miller - National Pony Express Association.
On November 11, 1854, the first civilian United States post office in the Kansas Territory was named Marysville, after Frank Marshall's wife Mary. Fifty seven years later, in 1911, with the completion of the long awaited Topeka cutoff, Marysville's railroad dreams began to come true.
The first freight passed through town from Kansas City headed to the West Coast. In April 1917, following successful negotiations between the city and Union Pacific Railroad, Marysville was named a division point and on July 1, 1918, became the Central Division's headquarters. Marysville remained the Central Division Headquarters until January 1933 when the headquarters was shifted to Kansas City.
Many "special" trains have rolled through Marysville. In 1912, engine No.1729 pulled Buffalo Bill's Wild West show into town. Two U. S. Presidents have come through Marysville by train, President Theodore Roosevelt in 1912 and President Franklin Roosevelt in 1943. John Phillip Sousa's band passed through town in 1928.