Navasota, TX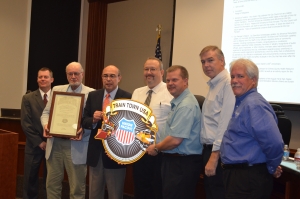 (L to R: ) City Manager Brad Stafford, Councilmember Bernie Gessner, UP AVP - Public Affairs J.M. Carreon, Mayor Pro-Tem Peter Canney, Navasota Mayor Bert Miller, Councilmember Grant Holt and Councilmember Geoff Horn.
The railroads were important to the birth of Navasota as a major trade and market center, first laying rail dating back to 1859 with the former International & Great Northern RR. Union Pacific arrived in 1902, with a line 44 miles in length from Navasota to Madisonville. Mayor Charles Stewart declared a holiday when the first train left for Madisonville and the entire citizenry gathered at the depot to see it off. Being a major cotton growing and livestock area, many times Washington Avenue was shut down to load rail cars.
In April 2010, the steam train No. 844's Valley Eagle Heritage Tour made a visit and created a lot of excitement in Navasota, with local citizens and others traveling hundreds of miles to see it and take pictures. No. 844 arrived on Railroad Street, right at downtown, and hundreds of spectators and media were there to welcome the train's arrival.
Union Pacific's line runs right through our historic downtown, parallel to Railroad Street (aptly named), which was for many years the primary market center for Navasota, and in 1982 the downtown district was added to the National Register of Historic Places registry.
Having Union Pacific Railroad running along Railroad Street right at our historic downtown brings many visitors to see the train come through, and many from metropolitan areas a place for an escape and shopping in addition to the historic downtown district. We are a growing community and look to thrive with the partnership with Union Pacific.