North Mankato, MN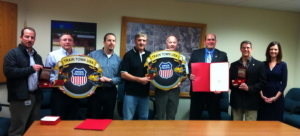 Left to right: Sean McGovern (UP), Patrick Hentges - Mankato Village Manager; Robert Miller (UP), John Reiger (UP), Thomas Burnside (UP), Wes Lujan - UP director-Public Affairs; North Mankato Mayor Mark Dehen; and Jenny Hamlin (UP)
North Mankato has been involved with the railroad from its earliest days. Initially established as a river town, the vagaries of river travel with the annual fluctuating depths of the Minnesota River made train travel much more reliable once established. Trains carried products from town in exchange for other goods and services.
Trains also brought citizens home and travelers/vacationers to the area. Guests from Chicago would come to enjoy the scenic beauty of the river valley and relatively cooler temperatures of summers while enjoying the local lakes. The trains also carried North Mankato's young men to war and back again.
In 1869, the St. Paul and Sioux City Railroad completed construction of the track through Mankato. In 1880, the St. Paul and Sioux City Railroad was consolidated with several other railroads to form the Chicago, St. Paul, Minneapolis and Omaha Railway. This railroad was ccontrolled by Chicago & North Western after 1882 and was operated as a part of C&NW system. The corporation lasted until 1957, and its official identity was maintained until 1972 when it was absorbed into the C&NW. Union Pacific merged with the C&NW in 1995.