Parsons, KS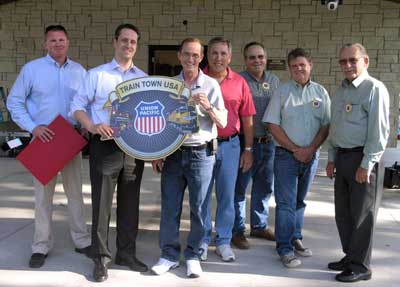 Union Pacific Superintendent Matt Stoolman and Ben Jones, UP director - Public Affairs, present the City of Parsons Train Town USA designation sign to Mayor Kevin Cruse and Commissioners Bill Hogelin, Tom Shaw, Jeff Perez and Dan Goddard.
There is probably no city in the country that has a more storied or specific history and future that is tied to the railroad than Parsons, Kan. The location for the city was picked specifically to serve as a railroad town after discussions with another city further down the rail line fell through. The city itself is named after Judge Levi Parsons, who at the time of the city's founding in 1870, sat as president of the Missouri-Kansas-Texas Railroad (MK&T/Katy).
Parsons was the location of the general headquarters, major shop complex and large switching yard for Katy Industries and the rail line. History tells it that one high-ranking Katy official donated the land and used Katy money to finance the building of the town's first bank. Katy funding also was used to start the city's first, and still running, newspaper, the Parsons Sun, soon after the town was founded. Due directly to the influence of the Katy railroad, the population of Parsons went from zero in 1870 to more than 6,500 by 1882.
Union Pacific Railroad purchased Katy Industries, along with the rail line, in 1988. With this, a deal was struck for the long term future of the city with a million dollars being set aside for economic development purposes. For more than a decade, the popular Katy Days event has been held in Parsons and draws thousands of people. The three day event celebrates the town's railroad heritage with a UP/Katy reunion tent, historic displays and even a live track laying demonstration by former UP/Katy employees. This track laying event is one of the most popular scenes at the festival and features as many as a dozen former "Gandy Dancers." These former railroad workers lay two separate sections of track by hand just as it was done in the railroad's heyday, introducing a new generation to the history and hard work that helped create the rail industry.
The Katy Railroad Historical Society was formed in Parsons on October 1, 1977, with a nucleus of 43 charter members. The Society has grown to include members from all reaches of the former railroad and has provided services and historical assistance to towns stretching across Oklahoma and Texas. The Parsons Historical Society currently operates the Iron Horse Museum, which features several Katy artifacts including a Katy switch yard engine that is on display next to the facility. As The City of Parsons nears its 150th birthday, the railroad history that forged the city sits in retrospect to the ability of the city to build upon its storied past and utilize the economic engine that was left behind by the very railroad the gave birth to the community.