Salem, IL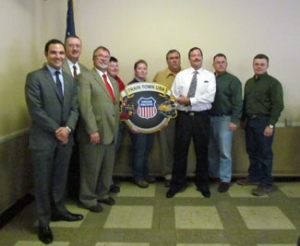 Adrian Guerrero, UP director-Public Affairs and representatives of Salem, Ill.
The City of Salem, Ill., was incorporated in 1855 as the county seat of Marion County. Situated then at the crossroads of the Ohio and Missouri (O & M) and the Illinois Central (IC) railroads, Salem grew as a transportation hub for southern Illinois for trains traveling from Cincinnati, Ohio, to St. Louis, Mo.; from Chicago to New Orleans and from Vincennes, Ind., to points west - an economic backbone that followed the rails to Salem.
The extensive yard operations existing for more than a century now, include plans for a $20 million dollar expansion and creation of new jobs and opportunities for the city and county residents. During the tough economic times facing small rural towns, Salem has been able to sustain its population and emerge as the "place to be" in Marion and surrounding counties.
Salem's colorful past includes railroad competition and confrontations which are still conversation topics here. Sidney Breese worked on his lines here, as did "Mr. Johnston" who guided the Chicago-Paducah and Memphis (CPM) rail construction from St. Elmo, through Salem and on to Cairo, later forming the Illinois Central line with Salem as the prominent switch point joining Villa Grove and Carbondale. Mr. Johnston ordered the Division to come together at Salem by physically moving and joining the stations at Brubaker and Bonnie into the new subdivision at Salem Yards in 1937. He simply had the stations picked up from Bonnie and Brubaker and loaded onto flatcars, and set end to end in Salem. Mr. Johnston was a colorful character and his daughters' names are preserved as towns on the IC line: Bonnie and Ina.
The three-story building on the NW corner of Main and Broadway served as the headquarters for the IC, MP and UP operations from 1905 until 1950 when operations control moved to the Salem Yards. The 1905 expansion was the first large expansion of rail operations in Salem as the Thebes Bridge across the Mississippi River was completed and the Illmo Yards were brought to Salem from Illmo, Mo.
Railroad barons competed for importance and commerce fiercely in the late 1800s, most notably the IC blocking of the intersection at the I & M tracks for more than a week over a trackage rights dispute. Rival operations buildings were bulldozed at midnight in Villa Grove, midnight construction of sidings on other line's tracks also were common.
The Heritage Unit locomotives which bear the insignia of retired logos from former major lines are popular with train historians and photographers and can be seen from the old depot just south of the Salem Yards as they work the UP tracks, and are displayed on the US Route 50 Overpass in Salem.
Salem benefits from its proximity to the Union Pacific Rail Yard, which currently employs approximately 200 workers.