Salina, KS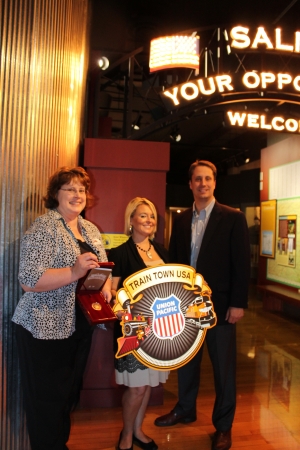 Salina Vice Mayor Barbara Shirley, Smoky Hill Museum Director Susan Hawksworth, and UP Public Affairs Director Ben Jones.
One of the most important events in the development of Salina was the arrival of the Kansas Pacific Railroad (later known as the Union Pacific). Delayed by the Civil War, the railroad rolled into Salina in April 1867, bringing goods, building supplies and people to Salina faster and cheaper than the slow and less dependable wagon trains from the East. It helped Salina grow into a regional manufacturing, wholesale and retail center. After a nationwide tour in 1934, Union Pacific's M 10,000, the City of Salina, made daily round trips from Salina to Kansas City. After only seven years, City of Salina was deemed too small to handle traffic and plagued by mechanical problems, it was removed from service in 1941 and scrapped. Ironically, the City of Salina was replaced by a steam engine that was named the Kansan. Salina's Union Station was built in 1917 to replace five different depots, and was to serve all of the Salina railroads. It sported red brick, a Spanish-style roof and a large control tower. Union Pacific currently uses the depot as a district office.
Opened in 1920, the Union Pacific Freight Depot served the Union Pacific and downtown Salina until the 1970s when it was closed.
Compiled from information obtained from: Al Mattson, Salina Public Library, Smoky Hill Museum, and the Salina Journal.