Shoshone, ID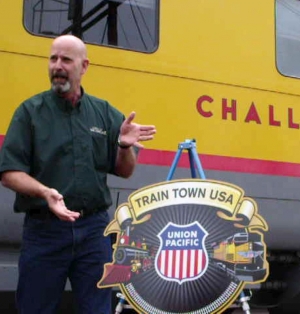 Shoshone Mayor Dave Wendell
Union Pacific played a large part in Shoshone and Lincoln County's history. Shoshone was once a very busy town with a large train depot, roundhouse and rail yard. People would travel through Shoshone as a stopping point either to go to Twin Falls and Shoshone Falls or north to the famous Sun Valley Resort.
Today, Union Pacific's Depot still stands in the same location as it did back in the 1930s and still is used by the Maintenance department. The railroad still is active, as we get up to and sometimes more than 40 trains a day.
Union Pacific's 150th anniversary has been a huge asset to Shoshone and Lincoln County as it brings a large number of visitors to learn the about the history of Shoshone as well as to see the trains (including No. 844) pass through town. There is a train observation platform located next to City Hall where locals and visitors alike can watch the trains travel through town. Union Pacific Railroad has been important part of Shoshone since the beginning, in the present and into the future.
Lincoln County recently has opened a Historical Museum and hopes to put emphasis on the huge impact Union Pacific makes to Lincoln County and the town of Shoshone.