Smithville, TX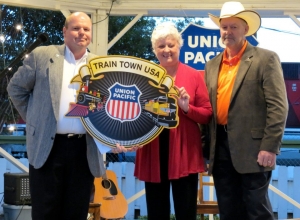 (L to R:) UP Superintendent Mike Brazytis; Chamber of Commerce President, Adena Lewis; and Smithville Mayor Mark Bunte.
The two words Smithville and railroads are synonymous. Smithville has been a railroad town almost since its beginning. For many years the Missouri, Kansas, Texas (MKT /Katy) has been a part of the fabric of Smithville.
Smithville had the largest Katy yard between Houston and Waco. With a large depot, shops and a roundhouse, the Katy was the major employer of Smithville. When meeting someone from Smithville it was almost a sure bet that they worked for the railroad.
The Katy joined Union Pacific in 1988.