Tucumcari, NM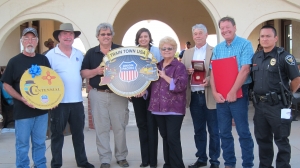 (L to R: ) Mark Lake, Tucumcari Mainstreet Foundation Executive Director; Terry Given, OL presenter and UP employee; Robert Yager, UP manager - Operating Practices; Zoe Richmond, UP director - Public Affairs; Dora Salinas-McTigue, City Commissioner District 1; Robert Lumpkin, City Commissioner District 4; Doug Powers, Tucumcari City Manager
Tucumcari is a town created by the presence of the railroad, with the founding in 1901 solely the result of railroad activity in the area. In that year, a connection was completed between the Southern Pacific at El Paso and the Chicago, Rock Island and Pacific at Liberal, Kansas. This put Tucumcari on a major transcontinental line.
In 1926, a new depot building was constructed in Tucumcari and the depot became the symbol of the railroad as the economic driver of the community. This building was a source of great civic pride, and every resident could connect their life in some way to the railroad. Train watching was a popular pastime and many residents today recall with fondness the hours spent watching the activity in the rail yard.
In 2002, the Union Pacific gave the depot to the City of Tucumcari. In the years that have since passed, the City, in partnership with Tucumcari MainStreet Corp., has invested $1.8 million in restoration of the building, and plans are being made to use the building to house a railroad museum.
As New Mexico prepared to celebrate 100 years of statehood, Union Pacific brought the steam locomotive No. 844 to the state, and Tucumcari planned a festival event to coincide with the train's arrival. More than 200 citizens took advantage of the opportunity to ride the train.
Plans now are under way for a second annual festival event to be held in the fall of 2012 with the depot and the major part played by the railroad, playing an important part.