WAGONER, OK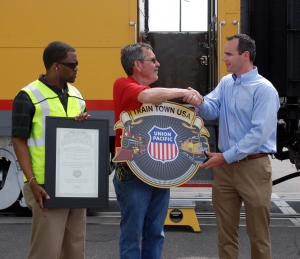 UP MTO Andre Small, Wagoner Mayor James Jennings, and Clint Schelbitzki, UP director - Public Affairs.
Wagoner was named for Henry "Bigfoot" Wagoner, a dispatcher with the Katy Railroad in Parsons, Kan., who saw the need for building a railroad switch a few miles north of Gibson Station. The request was granted and switch was built. When Roadmaster Perry telegraphed the message "Wagoner's Switch is ready," the town had its name.
The town sprang up in 1887 when William and Sallie McAnally opened a lunch counter and hotel at the crossroads of the M-K-T and MoPac. Other railroads came and went over the years, but Wagoner remains at the crossroads of the two lines, both now operated by the Union Pacific. Wagoner, from its very beginning, has been a Train Town USA.