Wamego, KS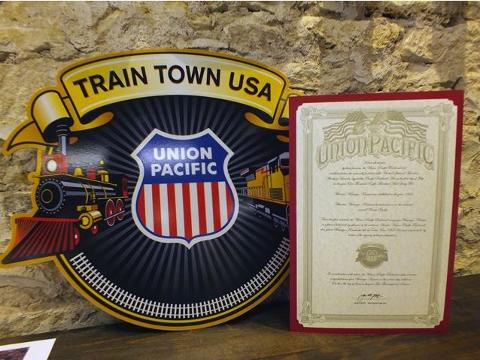 "Train Town USA" proclamation and sign presented to Wamego.
Union Pacific's east-west line through Wamego originally began as the Leavenworth, Pawnee and Western Railroad in 1855, part of the Kansas Pacific Railroad, a southern branch of the transcontinental railroad established by the Pacific Railway Act. The Kansas Pacific began building the rail line in 1863 for passenger and freight trains. Recognizing this opportunity, the Wamego Town Company founded a new town site, Wamego, along the proposed rail line in 1866. By 1874, the town had a railroad station, roundhouse and shops, as well as 28 businesses. Not long after, in 1880, the Kansas Pacific Railway was consolidated with Union Pacific.
"We are proud to recognize Wamego as we celebrate our growing up together," said Lindsey Douglas, Union Pacific's director - Public Affairs for Kansas and Missouri. "Union Pacific was founded to help connect the nation from east to west. Our shared heritage with Wamego is a source of pride as we remember our past while delivering the goods American businesses and families use every day."