Warrensburg, MO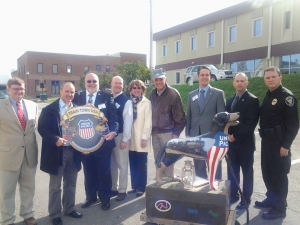 Nick Fry - Guest Speaker and Curator of the John W. Barriger III National Railroad Library; Jason Elkins - President -Board of Directors, Warrensburg Main Street), Mayor Don Butterfield; Paula Hertwig Hopkins - City Manager-City of Warrensburg; Bill Bernier - original President of the Board of Directors for the Depot Renovation, Preservation and Maintenance Corporation; Ben Jones - Union Pacific Director-Public Affairs-Missouri/Kansas; Brad Thorne - Union Pacific Senior Special Agent; and Tim Espey - Union Pacific Special Agent
Daily a whistle of an approaching train catches the ears of "Burg" residents, punctuates conversations of neighbors, pauses high level business meetings and, with characteristic familiarity, carries residents off to sleep. Dozens of Union Pacific trains rumbling through the town is the life blood of the nation and heartland. Warrensburg is an important piece of the vast Union Pacific Railroad network stretching from coast to coast.
Like thousands of other towns that developed west of the Missouri located in and around Union Pacific depots, Warrensburg formerly was part of the Missouri Pacific Railroad System. Organized in 1836, Warrensburg settlers came from Tennessee and Kentucky, including the town's name sake, Martin Warren. Union Pacific in Missouri and its immediate predecessor Missouri Pacific Railroad, was one of the first railroads west of the Mississippi River, coming from a long line of predecessors and mergers that have added to the colorful history of present day Union Pacific.
By the middle 1800s, prominent businessmen Colonel B.W. Grover and Major N.B. Holden against all odds, decided they wanted to bring a railroad branch through Warrensburg and were successful. Colonel Grover, also a Missouri State Senator, played a significant role when in 1849 the Pacific Railroad was granted a charter for a rail line to run between St. Louis, "... from any point on the main line of the Pacific Railroad east of the Osage River to any point on the western boundary of Missouri south of the Osage River (Missouri Legislature Act passed and approved Christmas Day, 1852)." The Pacific Railroad line was completed from Sedalia to Warrensburg on July 4, 1864, with the present depot sitting on the original site, the newer depot constructed in 1889.
The Warrensburg Standard reported, "The Pacific Railroad is now completed about 20 miles distant from Warrensburg and we may look brightly to that future as the new 'order of things' and will here demand that enterprise subvert sluggish notions in regard to keeping back public advancement."
Over the years tons of quarried sandstone for construction in St. Louis, hundreds of pack mules destined for WWI and tourists coming from as far away as New York to vacation at the famous Pertle Springs Lodge were transported to and from Warrensburg by this very same Union Pacific Railroad line.
Warrensburg is happy to host Union Pacific Railroad and proud of the UP commitment to the community.