GroTrain Fertilizer Network Links Fertilizer Producers with Crop Production Regions
Union Pacific's GroTrain Fertilizer Network links dry fertilizer shippers and receivers across the nation. From dry fertilizer plants to farmers, our network is designed to promote and sustain long-term agricultural growth in the Midwest.
Union Pacific is working together with both fertilizer shippers and receivers to make shipping easier, more efficient and most of all, more cost-effective. Through asset utilization and collaboration among all participants, Union Pacific is able to reduce rail transportation cycle times.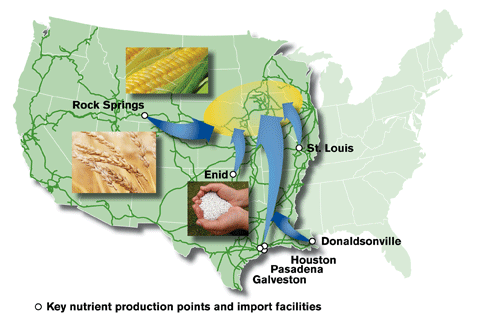 South Dakota Market Connection
Union Pacific is working with the Rapid City, Pierre & Eastern Railroad (RCPE) to interchange rail traffic at Union Pacific's Mankato, Minnesota rail yard. The new interchange creates a direct route for shipments traveling west into South Dakota. Customers can obtain a single price from Union Pacific served origins directly to South Dakota destinations served by RCPE.
South Dakota cooperatives and growers served by RCPE:
| Company Name | Location |
| --- | --- |
| AgroLiquid | Ree Heights |
| Cone Ag | Onida, Pierre |
| CHS (Midwest Co-op) | Onida, Philip, Pierre |
| Crop Production Services | Harrold |
| Dakota Mill & Grain | Ft. Pierre, Highmore, Wall |
| Koch Nitrogen | Verdi, MN |
| Prairie Ag Partners | Arlington, Lake Preston |
| South Dakota Wheat Growers | Huron, Redfield, Yale |
Maps
Unit Train Features
70-car and 85-car unit trains with both railroad and private cars -- one commodity, one origin and one destination.
Public rates published in tariff UP 4294; commodities include Urea, DAP and MAP.
Long-term commitment to fertilizer unit trains.
Utilize Unit Train Customer Interface (UTCI) to monitor trains. A user ID and password is required.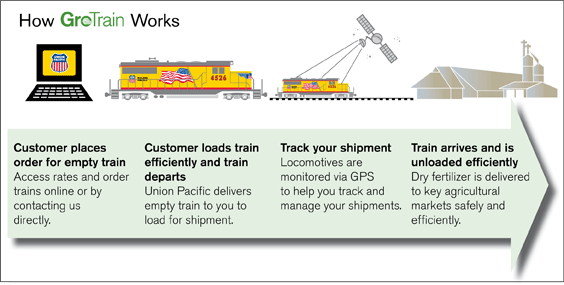 Additional Resources
Contact us: To learn more about GroTrain, contact our Fertilizer team at GroTrain@up.com or 402-544-1065.
Looking for prices? View our established rates by accessing Price Documents. Select document number UP-4294.
Review program information: Visit GroTrain Rules.