Intermodal Terminal Reservations System Update from Kenny Rocker, EVP, Marketing & Sales
Announcement Number: CN2019-58
Categories: General Announcements
Posted Date: August 19, 2019
Dear Premium Customers,
In July, we announced our new Intermodal Terminal Reservations (ITR) system would be coming soon. The system is now
live
and has replaced our antiquated Gate Reservation System.
The objectives of ITR are to:
Give customers visibility to available terminal and train capacity.
Enable better planning for your end-to-end supply chain.
Provide a consistent and reliable transportation experience with Union Pacific.
Ensure terminal fluidity.
Thank you for adopting the new system and providing feedback along the way. Where possible, we rapidly made enhancements to improve your overall experience, and we will continue to do so in the weeks to come.
Suspension of ITR Accessorial System
As part of the ITR rollout, we
announced
a new accessorial debit and credit system where customers would be responsible for accessorial charges related to reservation cancellations and no shows, and receive credits for units that did not depart on the scheduled train.
After further consideration, Union Pacific is indefinitely suspending the implementation of the ITR accessorial charges. Instead, Union Pacific will proactively monitor and provide visibility into each customer's reservation utilization and will work with them to ensure reservations match actual demand. We will continue to monitor the need to implement an accessorial system for ITR, but we would prefer to have customers take advantage of the visibility it provides.
ITR Coming Soon to Three Additional Terminals
Additionally, we are working to improve functionality and ease of use in conjunction with our rollout plan to additional terminals. By the end of September, we intend to launch ITR at three additional terminals for domestic traffic: Mesquite (Dallas), Denver and Kansas City.
To ensure predictability and reliability in your transportation experience, reservations are strongly recommended at all terminals where ITR is active. Customers with reservations will have a high degree of certainty that units will be able to in-gate when they arrive at the terminal and depart on the scheduled train. To be flexible, we are designing ITR with "drive-up" capability, where customers without a proactive reservation will be assigned one upon in-gate. "Drive-up" will be active when we launch ITR at the next three terminals. At those terminals, in most cases, you will be assigned to the train with the next cut off if there is available capacity. If that train is already full, we will attempt to assign you to a subsequent train where capacity is available.
We want customers to be able to in-gate shipments on demand, and we are designing ITR to allow as much flexibility as possible. As we launch at Mesquite, Denver and Kansas City, in-gate windows will be wide enough to allow virtually all shipments to in-gate on demand. Customers who proactively obtain reservations will have greater assurance on the train they will ride, but they will also have the ability to take advantage of the "drive-up" feature and be assigned a reservation at in-gate.
At the West Coast terminals where ITR is in place, in-gate windows will remain the same. Given the higher demand for most trains off the West Coast and relatively more constrained terminals, it is unlikely "drive-up" units will be given a reservation or allowed to in-gate, which is the same as it is today.
Over time, in-gate windows at all terminals may be adjusted based on demand and terminal fluidity. This will mean they are relaxed, and more "drive-up" reservations will be available and constrained as demand increases. Again, our objective is to be as flexible as possible while providing you with a consistent and reliable experience with Union Pacific.
Full Implementation of ITR
Additional terminals will be cut over to ITR throughout the remainder of 2019, with the goal of being fully implemented by the end of the year. We are working on incorporating ITR into our UPGo mobile application to enable real-time visibility to ITR reservation availability. We are also working on ways to automate reservations to reduce, and ultimately eliminate, manual efforts. With ITR in place, you will receive a reliable and consistent experience from Union Pacific that allows you to execute your door-to-door move with a high degree of certainty.
We will continue to proactively and frequently communicate with you on changes and enhancements. As always, we value your feedback and thank you for your business.
If you have any questions, please contact your Union Pacific sales representative.
Sincerely,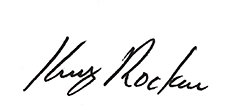 Executive Vice President, Marketing & Sales