Commercial Update from Kenny Rocker, EVP, Marketing & Sales
Announcement Number: CN2019-66
Categories: General Announcements
Posted Date: September 30, 2019
To Our Customers,
Fall is here!! I am happy to report we have maintained our operating performance at the improved levels we saw last month. We continue to be encouraged by the progress we've made over the last several weeks to improve service across our network, launching and arriving more trains on time.
Here's a quick look at where we stand:
Car Dwell (the amount of time a rail car spends in a Union Pacific rail terminal/yard) – This metric continues to improve, down to 23 hours in August, a 21% improvement from one year ago — and the best levels we've seen in several years! Our current seven-day average is holding strong at under 23 hours as well.

Car Velocity (daily miles per car) – In August, we performed at levels last recorded in 2016, and our September month-to-date level is on pace to exceed the August rate.

First Mile/Last Mile (delivering and picking up rail cars to/from customer facilities per our train schedule) – We saw record numbers again in August at 93%, an increase from 80% in August 2018.

Car Trip Plan Compliance (on-time delivery) – August's on-time performance improved by 11 percentage points compared to where we were a year ago, and our performance for September continues to improve upon the progress we've made.

Service Issues (customer-created cases requesting transportation-related assistance or information) – As a result of improved service, both manifest and intermodal service issues continue to trend in the right direction, down significantly since last year.
Building a Stronger Railroad Despite Some Challenges
During the past several weeks, we faced some challenges, but they haven't stopped us from achieving our performance goals.
Most recently, our network was impacted by heavy rains and flooding throughout Texas from Tropical Depression Imelda. The Beaumont and Galveston areas were hit hard, experiencing service outages and weather-related embargoes. However, crews worked diligently over several days to restore service to normal levels.
In addition to Imelda, last week a derailment occurred on our lines near Giddings, Texas. I am proud of our team's response to recover from setbacks like these swiftly and safely. The crews' hard work and dedication, and our efforts, along with our customers' efforts, to right size the inventory on the railroad have allowed us to keep our service levels steady with limited disruption.
Additionally, we are in the heart of our annual track maintenance work. Engineering gangs continue to work across the network from Eastport, Idaho, to Clinton, Iowa, and across Texas to our Eastern carrier interchange partners. Also, we recently completed a significant capital project at our hump yard in Livonia, Louisiana, which will improve the capabilities at this facility.
Technology Highlight: UPGo Mobile App
As you know, we are always working on new ways to improve our service and ease of doing business. With peak intermodal season in full swing, I'd like to highlight a new app we've introduced to expedite the intermodal terminal experience for drivers: UPGo.
Accessible on their mobile devices, drivers can use UPGo to easily pre-ingate and pre-outgate containers, with just a few taps on the screen. In some instances, they can completely bypass lines at the gatehouse to get paperwork and can access more accurate and timely information quickly and easily. UPGo also reduces the number of stops inside the ramps and streamlines the drivers' exit, helping to alleviate congestion throughout the terminals.
Since UPGo's launch, drivers have provided positive feedback related to improved efficiency, added convenience and time savings at the ramps. In August, more than 22,000 drivers were registered to use UPGo, with 61 percent of high-frequency drivers (five or more gate visits per month) actively using the app. UPGo is now available at all 32 of UP's intermodal facilities. To download the UPGo app or learn more about its features, visit
up.com/UPGo
.
Let's Go!!
As we round out the third quarter of 2019, more than ever, we are determined to build upon the progress we are making to improve our service performance. I look forward to sharing more great updates with you next month.
As always, thank you for your business!!
Sincerely,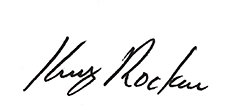 Kenny Rocker
Executive Vice President, Marketing & Sales