Commercial Update from Kenny Rocker, EVP, Marketing & Sales
Announcement Number: CN2019-73
Categories: General Announcements
Posted Date: December 19, 2019
To Our Customers,
2019 is coming to a close — and as we look back — wow, what a year it has been!! From the continued implementation of Unified Plan 2020 to the severe winter weather and historic flooding across the Midwest, I want to thank you for hanging in there with us as we worked to overcome challenges and make improvements to bring you a better experience as a Union Pacific customer.
Throughout 2019, we've seen quite a few challenges, but we are seeing our share of successes and great progress, too. With Unified Plan 2020 in place for well over a year now, our service product has improved significantly, and we feel really good about the direction we are headed as we look forward to 2020.
November's performance metrics are a direct reflection of the progress we are making month after month to improve our service product.
Here's a look at where we stand on our November key metrics:
Car Velocity (daily miles per car) – Compared to November 2018, car velocity has improved 6%.
Car Dwell (the amount of time a rail car spends in a Union Pacific rail terminal/yard) – We have seen a 13% improvement compared to last November, shaving off almost an hour of dwell time compared to our third quarter average.
First Mile/Last Mile (delivering and picking up rail cars to/from customer facilities per the train schedule) – Just as we reported last month, we are still holding steady at 93% for first mile/last mile, up from 80% in November 2018.
Car Trip Plan Compliance (on-time shipment delivery) – We continue to see better on-time performance across our network, and last month, we were up 7 points compared to where we were last year at that time.
The Table Is Set
We are really hitting our stride as we set out to finish 2019 at a strong and steady pace. All of the pieces are in place — the service, the team, the equipment — ready to take on more business and to continue improving upon the progress we've made.
More than ever, we look forward to working and collaborating with you to help you compete and WIN in the coming year. The time is now!!
I want to wish you and your families a very happy holiday season and a prosperous 2020. As always, thank you for your business.
Sincerely,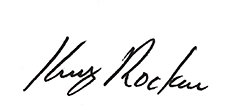 Kenny Rocker
Executive Vice President, Marketing & Sales