Union Pacific's Continued COVID-19 Response - A Message from Kenny Rocker, EVP, Marketing & Sales
Announcement Number: CN2020-10
Categories: General Announcements
Posted Date: March 18, 2020
To Our Customers,
As the COVID-19 situation evolves, so does our response plan. We are remaining agile and taking the necessary steps to keep employees safe and operations running as the situation develops. With safety as our top priority, we are taking every measure to continue to provide you consistent service and keep your supply chains moving.
Our network remains strong and we are in good shape as we head into these uncertain times. All Union Pacific facilities and terminals are open and our network operations are fluid. The following are the latest steps we've taken to ensure this remains the case.
Robust Contingency Planning
Union Pacific is engaged in robust contingency planning to ensure business continuity even as the COVID-19 situation evolves. Our cross-departmental pandemic planning team meets daily to stay ahead of the situation. Our contingency plan includes the following:
A robust risk mitigation plan for our dispatching and customer service centers. Plans are in place and steps have been taken to ensure business continuity for those employees critical to supporting Operations and our customers.
Relief in areas with shelter-in-place orders. Our pandemic team is working with government agencies and municipalities to gain access to communities where shelter-in-place orders have been imposed.
Terminal cleaning. In the event of an exposure, we have the resources in place to decontaminate our facilities and/or field work equipment. We have also increased the frequency of cleaning at our terminals.
Increased flexibility with our resources. If your operations are impacted, we will work with you and your local communities to keep your supply chain moving.
A new COVID-19 resource page. This page includes the latest updates on our rail network, the steps to take to request service changes and report plant shutdowns or facility disruptions, and embargo notifications if communities become quarantined.
Protecting Our Workforce
In addition to focusing on service continuity, we are also taking the proper steps to prevent the spread of the virus and protect our workforce. Union Pacific has asked employees to practice social distancing per the latest CDC guidelines. We have also banned all non-essential company travel and prohibited non-essential visitor access to system-wide facilities, including our headquarters building.
To keep work areas clean, we are increasing cleaning at all our facilities. We are also asking employees to take additional measures to prevent the spread of the virus, such as wiping down workspaces, including locomotive cabs, with disinfectants regularly.
In the Event of an Exposure
While no Train, Engine & Yard (TE&Y) employees have been diagnosed with COVID-19 and absenteeism remains low, in the event the virus is detected at one of our facilities, we plan to take the following steps:
Quarantine the infected employee and work with his or her medical provider and Union Pacific's Health and Medical team to obtain the necessary care.
Follow CDC and local health departments' recommendations to monitor impacted employees.
Decontaminate the affected facility and/or field work equipment.
Not unlike our response during natural disasters like floods and hurricanes, where our employees are impacted along with our customers, we will reposition various resources, including employees, to support continued operations.
We Are Still Here for You
We know these are difficult times for your businesses and your families. Please know we will continue to do all we can to retain a sense of normalcy and support your needs. We are in it together, and we will continue to be your partner during these unprecedented times.
As the situation develops, we will keep you updated. In the meantime, we hope you and yours stay safe and healthy.
Sincerely,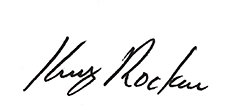 Kenny Rocker
Executive Vice President, Marketing & Sales