Status of the Railroad - A Message from Kenny Rocker, EVP, Marketing & Sales
Announcement Number: CN2020-23
Categories: General Announcements
Posted Date: June 30, 2020
To Our Customers,
Summer is officially here and I hope that you and your families are enjoying some outdoor activities, while staying safe and healthy.
As we near the end of the 2nd quarter, we have seen volume increase in recent weeks as auto manufacturing and other industries rebound from reduced operations and the economy improves from the pandemic. In June, our 7-day carload volumes have increased around nine percent compared to an average monthly low in May.
Our rail network continues to be fluid; and as demand for rail transportation increases, we are adjusting our resource levels accordingly to handle the increase in freight volumes.
Case Management Improves Process for Handling Service Issues
We continue to focus on what we can control and inserting technology to enhance your customer experience. We will be launching several new online tools over the summer that will make it easier for you to do business with us. Our newest enhanced tool — Case Management will replace Service Issues beginning in mid July. Additionally, we are working on streamlining notifications and enhancing the process for submitting a bill of lading.
The Case Management tool will help you with shipment delays, car orders, billing or other customer service topics like updating your company's information or notifying us on any disruptions to your facilities. Under the old system, you would have opened a "Service Issue" on our website. Now you can "Create a Case" to request assistance. With Case Management, you will experience an entirely new interface that will allow you to easily track a shipment, create a Case and view the upcoming Service Plan.
Some key new features of Case Management include:
Dashboard of current Cases along with coordinating Service Plan
Ability to see all the Service Plans created for your company
Self-Help Library provides articles to resolve an issue instantly
Capability to attach documentation to provide additional information to assist us in resolving your case
You will begin to see additional information in MyUPRR.com over the upcoming weeks. Our Customer Care & Support team is also prepared to assist you with any Case Management navigation questions you might have as you become familiar with this new interactive platform.
I am excited about the work the entire Union Pacific team is doing to deliver a solid service product and great experience. We appreciate your business and will continue to keep you updated on our progress.
Sincerely,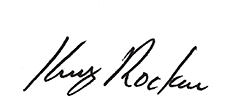 Kenny Rocker
Executive Vice President, Marketing & Sales