Get On Board with APIs – A Message from Kenny Rocker, EVP, Marketing & Sales
Announcement Number: CN2020-6
Categories: General Announcements
Posted Date: February 25, 2020
To Our Customers,
Union Pacific continues building technology to improve your customer experience. Our recently launched Application Programming Interface (API) allows for the exchange of data between our system and yours — giving you direct access to supply chain data.
API-based secure connections allow our customers and supply chain partners the ability to interact with account and shipment data in their own interfaces to enhance shipment visibility and take action on rail shipments. APIs are reducing manual work and streamlining business transactions by giving customers a new way to interact.
Customers have had success using the shipping API to gather and report ETAs in real-time, gain enhanced visibility into their service exceptions and better connect their supply chain to their production planning. APIs are allowing customers to build new functionality in their interfaces and provide vital information to their team or partners in the downstream supply chain.
To get started with Union Pacific's API services:
Thank you for your business!!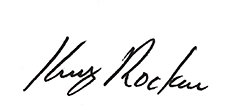 Kenny Rocker
Executive Vice President, Marketing & Sales