Status of the Railroad - A Message from Kenny Rocker, EVP, Marketing & Sales
Announcement Number: CN2021-18
Categories: General Announcements
Posted Date: February 26, 2021
To Our Customers,
As you know, over the past month we have faced many challenges from Mother Nature. We started the month of February with record snowfall in the Cascade Mountains, followed by a significant arctic weather system that impacted our entire network. In our Southern Region, we experienced the second worst stretch of cold weather in more than 70 years, with below freezing temperatures for eight consecutive days — the coldest temperature averaging 13 degrees. In our Northern Region, we endured 10 straight days of temperatures below 10 degrees — with the coldest day averaging nearly 7 degrees below zero. Our Operating and Engineering teams worked around the clock to adapt to commercial power outages, water supply issues, road closures and significant snow and ice removal throughout the network.
As weather has improved over the past week, our Operating and Engineering teams are working to restore the network as quickly as possible and return to the level of service that you expect. We anticipate our key service metrics to improve accordingly, going forward.
Transforming Our Marketing & Sales Organization
After a distinguished 33-year career at Union Pacific, Brad Thrasher, vice president – Bulk announced his plans to retire in March. Brad has been a valuable asset to Union Pacific and we wish him all the best in his retirement.
We announced the following leadership changes to our Marketing and Sales organization, effective March 1:
Jason Hess to vice president – Bulk
Kari Kirchhoefer to vice president – Premium
Josh Perkes to vice president – Loup Logistics
Dan McLaughlin to assistant vice president – Grain & Grain Products
Elise Gosch to assistant vice president – Premium Intermodal
These appointments will be instrumental in leading the Marketing and Sales organization as we work together with you to grow your business and deliver an exceptional customer experience.
Thank You
Thank for your patience as we worked through the unprecedented winter weather, we truly appreciate you trusting us as your rail provider. I look forward to sharing our progress as we move into more favorable springtime weather.
Sincerely,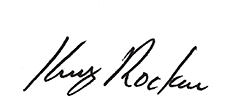 Kenny Rocker
Executive Vice President, Marketing & Sales