Heavy Snowfall Impacting Operations
Announcement Number: CN2021-22
Categories: General Announcements
Posted Date: March 15, 2021
To Our Customers,
Significant snow accumulation continues to impact operations across Wyoming, Colorado and western Nebraska. Interstate, highway and local road closures continue to pose transportation challenges for our crews as we work to restore service in the impacted areas. Pre-positioned resources are assisting with transporting crews and clearing snow.
Embargoes have been issued for customer locations served out of Cheyenne, Wyoming. Please see our
embargo page
for detailed information.
Region Impact
Wyoming
Cheyenne has received approximately 36 inches of snow with more snow in the forecast today. We continue to work to dig out switches and clear snow off the tracks to keep the main line and terminals open. However, road closures and uncleared streets are continuing to impede travel for our crews.
In Bill, Wyoming, 12 inches of snow have fallen, and the major highway running through the area is closed, impacting crews' ability to report to work.
Colorado
More than 30 inches of snow are on the ground in Denver, Colorado. The snow has stopped and roads are beginning to reopen, resulting in improved crew availability as recovery efforts continue.
Western Nebraska
Crews are working to clear snow off tracks in the Nebraska panhandle.
We have activated our winter weather action plans and remain focused on delivering your freight as quickly as possible. Customers can expect delays between 48 and 72 hours for shipments traversing these impacted areas until the severe weather subsides.
If you have any questions, please contact Customer Care & Support at 800-272-8777 or your Union Pacific representative.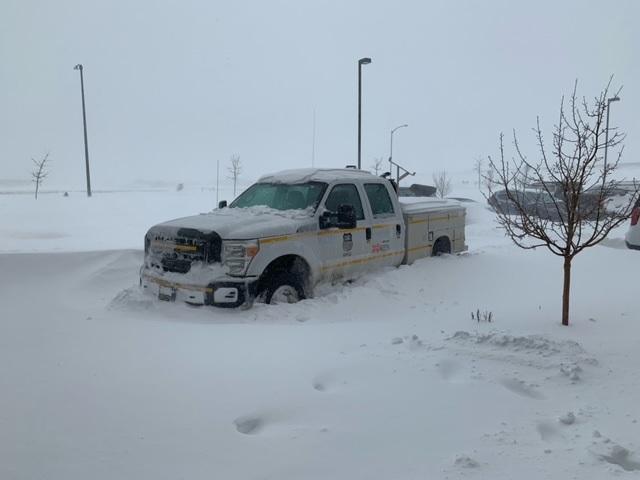 Union Pacific vehicle blocked in by more than two feet of snow in Cheyenne, Wyoming