Service Recovery Efforts Continue in the Western Region
Announcement Number: CN2017-4
Categories: General Announcements
Posted Date: January 13, 2017
To Our Customers,
Service recovery efforts continue over our Pacific Northwest route in Eastern Oregon, Idaho and Wyoming, which has impacted through-service between Portland and Chicago.
Service Interruptions
Operations remain suspended between Wallula and Spokane, Washington due to an interruption south of Spokane. We are currently rerouting traffic around the affected area on a limited basis. Due to the nature of the interruption, customers can expect shipments delays of 72 to 96 hours.
Progress to restore operations continues in the Feather River Canyon near Portola, California, due to washouts, with traffic being rerouted around the affected locations. Alternate routes remain open over Donner Pass and via Southern California, with delays expected up to 48 hours for customer shipments.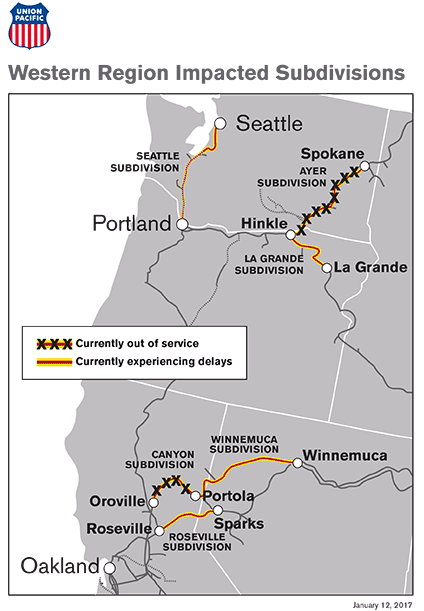 Preparing for Winter Weather in the Northern and Southern Regions
A winter storm continues to be forecasted to hit the regions bringing widespread ice, snow and rain starting Friday. Operations has done a considerable amount of prep work staging resources and they are conducting regular calls to minimize the impact of the storm.
Thank you for your business. Please contact the National Customer Service Center or your Union Pacific representative with any questions.