Winter Storm Kori Impacting Western Region Operations
Announcement Number: CN2017-7
Categories: General Announcements
Posted Date: January 18, 2017
To Our Customers,
Winter storm Kori is bringing heavy rain and ice to the Pacific Northwest resulting in multiple service interruptions to our operations between Portland, Oregon; Spokane, Washington; and Pocatello, Idaho. Our ability to respond to the problem areas has been further hampered by road closures around Hinkle and Pendleton, Oregon, and Spokane, Washington. As we work diligently to recover from the most recent service interruptions, our customers could experience a delay of 48 hours, along with interrupted local service in the Hinkle, Pendleton and Nampa, Idaho areas.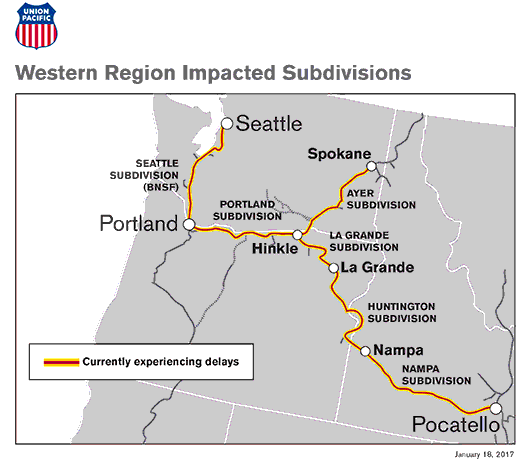 At Union Pacific, safety is our top priority. While we will always do everything we can to recover operations during inclement weather and other service interruptions, the safety of our employees and the communities we serve will always be our primary concern.
Thank you for your business. Please contact the National Customer Service Center or your Union Pacific representative with any questions.