Status of the Railroad - A Message from Kenny Rocker, EVP, Marketing & Sales
Announcement Number: CN2021-62
Categories: General Announcements
Posted Date: October 29, 2021
To Our Customers,
This October flew by so fast – it's hard to believe that the month is almost over. Last Wednesday, I met with several industry leaders at the Southeast Association of Rail Shippers (SEARS) at their fall conference. This was my second conference in person over the past month – it was great to connect with customers. Thank you SEARS for hosting the event.
I remain optimistic about the opportunities in front of us as we finish out the year. The economic forecasts point to continued market strength. Although we expect intermodal demand to face supply chain challenges, we will continue to focus on what we can control. In fact, we recently announced additional proactive steps to help reduce the global supply chain congestion for goods moving inland from West Coast ports. We extended gate access at our ICTF facility at Long Beach, California, to 24/7 operations to support the Ports of Los Angeles and Long Beach on their recent move to 24/7 operations. In addition, we are piloting a refund program to encourage in-gates at our ICTF facility in Long Beach during weekend hours.
Here is a quick look at our MTD 7-day metrics compared to September:
Car velocity fell by 3% to 198, but remains up from August's low of 186.
Car dwell increased by 4% to 24.5.
Manifest trip plan compliance (on-time performance) dropped by 4 percentage points to 57%.
Intermodal trip plan compliance increased by 3 percentage points to 76%.
Although our Operating team has made progress in the last 60 days to improve the service product, we recognize that there is still room for improvement. For our manifest network, our yards are processing at record volumes – the strongest since 2006. We will continue to work closely with our customers and Operating Team to help drive more fluidity in the network.
Thank You
As always, thank you for your business and patience as we work to improve our service levels. We appreciate your collaborative efforts to work with us as we find creative solutions to ease the supply chain congestion together.
Sincerely,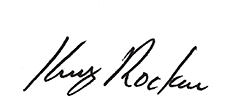 Kenny Rocker
Executive Vice President, Marketing & Sales