Status of the Railroad - A Message from Kenny Rocker, EVP, Marketing & Sales
Announcement Number: CN2022-1
Categories: General Announcements
Posted Date: January 5, 2022
To Our Customers,
Happy New Year! As we begin 2022, I feel energized and optimistic about the opportunities we have to grow with you this year. Moreover, our Operating team made fundamental progress on our service performance in December, which has put us pointed in the right direction to start the new year.
Here is a quick look at our performance metrics in December compared to the prior month, despite a number of weather and service interruptions that impacted our network:
Car velocity improved by 2% to 197 miles per day.
Car dwell is down to 23.8 hours, improvement of 4%.
Manifest trip plan compliance (on-time performance) increased by 7 percentage points to 62%.
Intermodal trip plan compliance held steady at 78%.
The Operating team continues to work on several targeted initiatives to improve our network fluidity. We are encouraged by the progress made on those initiatives. Our team remains focused on driving further improvement in our service metrics and enhancing your customer experience.
Building for Future Growth
Beginning next week, we will be continuing the transformation of our Houston Englewood Yard to solidify its position as a premier rail car processing hub. While significant work has been accomplished since the project began in 2020, this year begins the next phase of the project:
Implementation of a new signal system throughout the entire yard will occur January 9-13.
Tie and rail replacement phase will strengthen the underlying rail infrastructure — this project is scheduled from January 25th through late February.
In mid-March, the final phase of the software and hardware upgrades to the new hump computer system will begin, with implementation and testing occurring over a two-week period.
Our operations team will have additional staffing on hand to mitigate delays during this final phase of the project. Although we remain focused on delivering your freight as quickly as possible, we do anticipate some transit delays due to the signal replacement process (January 9-13). Signal reliability will significantly improve, which leads to expedited yard processing and overall reduced dwell times. Additionally, once the new hump computer system is fully implemented, we will be able to process more rail cars through the terminal.
I am confident these short-term delays will be well worth the gains in supporting your current and future business needs in this dynamic growth area of our network.
Thank You
We are truly grateful for your business. Thank you for working collaboratively with us to keep supply chains moving. I look forward to a prosperous 2022 with you as a trusted business partner.
Sincerely,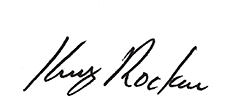 Kenny Rocker
Executive Vice President, Marketing & Sales