Status of the Railroad - A Message from Kenny Rocker, EVP, Marketing & Sales
Announcement Number: CN2022-67
Categories: General Announcements
Posted Date: November 21, 2022
To Our Customers,
As Thanksgiving nears, I want to give thanks to all our valued customers. You make our growth possible and I'm grateful for opportunities we collaborated on with you this year. I hope you and your families have a safe and joyous holiday.
As you know, we are dedicated to meet your needs and improve your experience as a Union Pacific customer. Since my last update to you in October, our network performance had some setbacks, and our service product is not yet at the levels that we want them to be. Demand for our bulk commodities continue to remain strong – however, operating inventory for our manifest business is climbing at a faster rate than our carloads in key areas of the network where resources remain tight. As history has shown, additional inventory leads to more congestion in yards, an imbalance of our resources, and further slowdown of our operational performance. To make sure we do not lose progress on the improvements we have made so far, I want to provide you with an update on the actions underway.
Continued crew hiring – Graduated 1,031 employees and currently have 522 new train crew members in training as of November 11, 2022.
Increased crew supply – Currently utilizing 195 borrow-outs to support increased demand in our Northern region.
Increased locomotive supply – Added almost 200 locomotives to our operable fleet since the beginning of the year to handle the additional gross ton miles.
Operating inventory – Accelerating storing UP-system controlled cars that are not being utilized. We are working with a small number of customers with excess private cars on our network to help them reduce their rail car inventories.
These actions, along with our other ongoing initiatives, will give us the ability to further improve service across the network. It is our hope, that by working together, we can ease congestion, speed up operations and deliver a more reliable service product to all customers.
Thank You
As always, we appreciate your business. Happy Thanksgiving to you and yours!
Sincerely,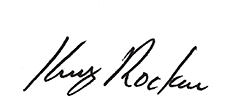 Kenny Rocker
Executive Vice President, Marketing & Sales