Status of the Railroad - A Message from Kenny Rocker, EVP, Marketing & Sales
Announcement Number: CN2021-28
Categories: All Customer News
Posted Date: April 27, 2021
To Our Customers,
As we round out the month of April, I am pleased to see our 7-day volumes increase to the highest so far this year. As demand increases, I want you to know that we remain focused on providing you with a solid service product that is fluid and reliable.
Here are our key operating metrics for the first quarter, which are reflective of the challenges our network faced with the severe weather in February and March:
Freight Car Velocity (daily miles per car) – Car velocity was at 209, down 1% from a year ago.
Freight Car Terminal Dwell (the amount of time a rail car spends in a Union Pacific rail terminal/yard) – Average dwell time was 23.5 hours, improving 1% compared to this time last year.
Car Trip Plan Compliance (on-time shipment delivery) – Manifest/auto trip plan compliance improved by four percentage points to 68% compared to a year ago. Intermodal trip plan compliance was 77%, down eight percentage points from the first quarter 2020.
We are working closely with our customers and our Operating team to restore these service metrics back to the solid levels we saw earlier this year. In fact, we are realizing improvement this month, as car velocity and dwell times have improved by 2% and 3% respectively so far this month. As you can see, we are making progress, but we have further room for improvement.
Shipment Management Dashboard Enhancements
When we initially released our Shipment Management dashboard, the data visualization tool gave carload customers real-time information about their equipment at industry, in the serving yard and heading their way. Over the past few months, we have added enhancements to benefit both our intermodal customers and our short line carriers.
Our intermodal shippers can now customize their dashboard "by lanes" to see real-time information including departed, en route, arrived and outgated equipment. By customizing by lane, intermodal customers have a one-stop shop to effectively manage daily operations.
Just last week, our short line carriers gained visibility to incoming shipments from Union Pacific. Connecting railroads now have a seven day view of cars in route, with the associated estimated time of interchange. They can now drill down by equipment ID and shipping instructions — providing them with the visibility to plan their resources better and keep interchange points fluid.
You can access Shipment Management by logging into MyUPRR.com (user ID and password required). You can take a tour within the application to become familiar with the new enhancements.
Thank You
Thank you for working with us as we strive to provide you with a service product that you can depend on. We appreciate your business and I look forward to sharing some more great updates with you next month.
Sincerely,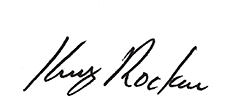 Kenny Rocker
Executive Vice President, Marketing & Sales