12-18-13 Expanded Eagle Premium Service to Los Angeles & St Louis
Announcement Number: IM2013-622
Categories: Domestic Mexico,All Intermodal,Domestic Service Lanes and Schedules
Posted Date: December 18, 2013
Dear Intermodal Customer,
Union Pacific in conjunction with the Ferromex is pleased to announce the expansion of its Eagle Premium Service at Monterrey, NL. Starting January 2, 2014, service from the FXE Monterrey terminal to Los Angeles and St Louis will be available for northbound shipments only. Customers can begin ingating loads for the destinations of Los Angeles and St Louis on Monday, December 30th. The first train will run Thursday, January 2, 2014.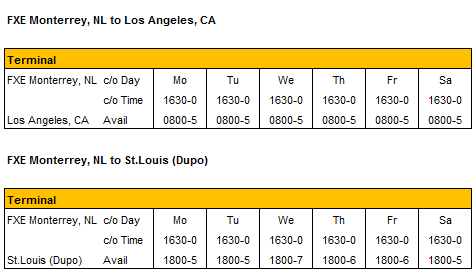 If you have any questions please contact your Union Pacific representative.