New Eagle Premium Service to Monterrey,Mexico
Announcement Number: IM2013-515
Categories: Domestic Mexico,Domestic Miscellaneous,Domestic New Products,Domestic Price,Domestic Service Lanes and Schedules,Domestic Terminals,International Mexico,International Miscellaneous,International New Products,International Price,International Service Lanes and Schedules,Streamline Door to Door
Posted Date: October 3, 2013
Dear Intermodal Customer,
Referencing announcement IM2013-421 (August 1,2013)

Union Pacific, in conjunction with Ferromex, will be initiating our new Eagle Premium Service which will feature seamless Intermodal service 6 days per week between Chicago, IL and Monterrey, MX.
The first train Southbound from Chicago to Monterrey will be launched on October 15th and Northbound from Monterrey to Chicago on October 17th. Customers will be able to reserve intermodal equipment via Rez -1, outgate empties, and ingate loads starting October 8th at the FXE Monterrey Terminal.
Key start up dates: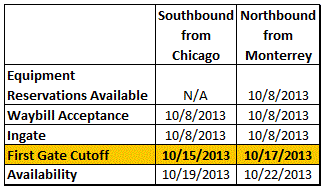 Please see schedules below for details:

Autopista Periférico Monterrey No. 4101 C.p. 66060 Escobedo N,L
If you have any questions please contact your Union Pacific representative.