Chicago (Global 4,IL) to Dallas & Houston Service changes
Announcement Number: IM2013-201
Categories: Domestic Service Lanes and Schedules,Domestic Terminals,International Service Lanes and Schedules,International Terminals,Premium,Streamline Door to Door
Posted Date: April 11, 2013
Dear Intermodal Customer,
Effective Monday, April 22nd to better align our service with demand, UPRR will make the following service changes for our standard traffic originating in Chicago (Global 4,IL) to Dallas (Mesquite,TX) and standard,expedited and super flyer traffic from Chicago (Global 4,IL) to Houston,TX. Please see service schedules below.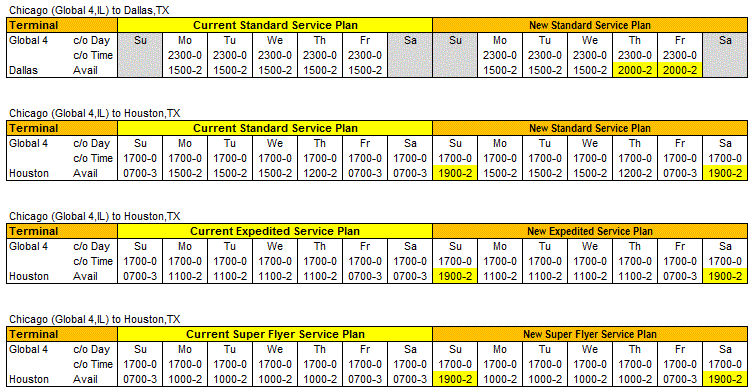 Thank you for your commitment to Intermodal and Union Pacific Railroad
Sincerely
Intermodal Business Team
For additional information please contact your Regional Sales Manager at http://www.uprr.com/customers/intermodal/intteam.shtml

If you have any questions please contact your Union Pacific representative.