Opening of Union Pacific's New Santa Teresa Intermodal Ramp
Announcement Number: IM2014-72
Categories: Domestic Service Lanes and Schedules,Domestic Terminals,Domestic New Products,Domestic Rules and Provisions,International Service Lanes and Schedules,International Terminals,Premium,Streamline Door to Door
Posted Date: March 3, 2014
Dear Intermodal Customer,
Effective April 1, 2014 Union Pacific is pleased to announce the opening of the new Santa Teresa Intermodal Ramp (STIR) in Santa Teresa, New Mexico. For the first time ever, New Mexico will have a key inland port, positioning the Santa Teresa/El Paso area as a strategic focal point for rail shipments in the southwestern United Sates. STIR is ideally located on the "Sunset Route" near El Paso, Texas and the Mexico border, allowing Union Pacific to provide unmatched service to this growing market. The new facility's features include an annual lift capacity of 250,000 units, 8 automated gates, 1,266 container and trailer parking stalls. In addition, servicing and fueling of refrigerated container and trailer shipments will be possible on run-through trains.
The new Santa Teresa ramp will replace our current intermodal terminal at El Paso, Texas. All current service offerings to and from El Paso, Texas will now be handled from Santa Teresa Intermodal Ramp (STIR), with no changes to the current schedules. Starting in mid 2014, Union Pacific is pleased to announce new services between STIR and Lathrop, Calif., Atlanta, GA., and Charlotte, N.C.over the New Orleans, Louisiana gateway. Schedules will be announced at a future date.
Union Pacific will provide in the very near future a subsequent announcement detailing cut-over schedules and timing for all inbound and outbound trains as we transition operations from El Paso, Texas to the new Santa Teresa Intermodal Ramp (STIR).
Ramp Information:
Hours of Operation: Gate hours 24/7, Flip hours 24/7, Roadability hours 24/7
Firms code: T571
Santa Teresa Intermodal Ramp Address:
9050 Strauss Road
Santa Teresa, NM 88008
Ramp Access: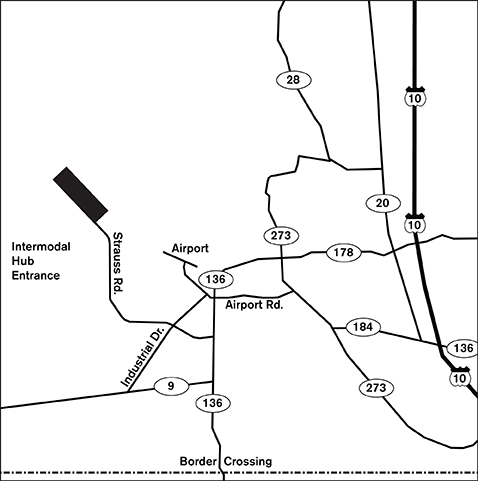 Directions:
From I-10, take Texas Highway 178 (Artcraft Road) west.
Continue on New Mexico Highway 136 (Pete V. Domenici Memorial Highway).
Turn right at Strauss Road and continue on for approximately six miles to the Santa Teresa Intermodal Ramp entrance.
Key Dates to Remember:
El Paso ingate will close on Monday, March 31, 2014 at 11:59 PM
Opening day for Santa Teresa Intermodal Ramp is Tuesday, April 1, 2014. Gate opens at 6:00 AM
El Paso outgate will close permanently on Friday, April 4, 2014 at 5:00 PM
If you have any questions please contact your Union Pacific representative.