Hurricane Sandy - Update
Announcement Number: IM2012-621
Categories: Domestic Other Service Information,International Service Lanes and Schedules,Domestic Terminals,International Terminals,Premium,Streamline Door to Door
Posted Date: October 29, 2012
Dear Intermodal Customer:
Hurricane Sandy is building intensity and is expected to make landfall today. In preparation, eastern rail carriers are reducing service and have issued service embargoes. Effective immediately NS and CSX have embargoed the below listed locations. As a result Union Pacific will discontinue accepting any shipments or billing for these points.
Union Pacific will offer EMP and UMAX per diem relief on units already loaded to embargoed destinations but not yet in-gated to UPRR at the time of CSX and NS embargo announcements. UPRR will not offer per diem relief for containers that were loaded after the embargoes were announced.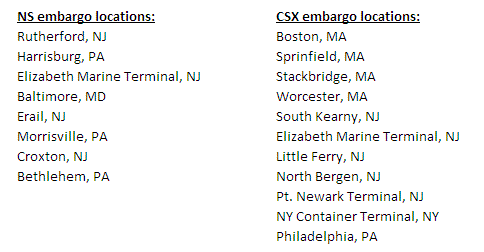 Sincerely
Intermodal Business Team
For additional information please contact your Regional Sales Manager at http://www.uprr.com/customers/intermodal/intteam.shtml#imc or get the updated