UMAX Benefits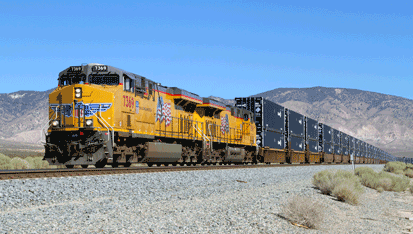 Access to more than 40,000 UMAX and 40,000 EMP, 53' quality, domestic containers available in high-cube and ultra-wide sizes for individual loading preferences.
A variety of UMAX and EMP equipment program products to meet customers' specialized requirements.
A reduction in transportation costs and improvement in product flows through the use of intermodal equipment.
Expansive rail network across the U.S., Mexico and Canada reaching all major markets offering truck-competitive rail service in key lanes.
State-of-the-art central information and reservation system, REZ-1, with real-time data on equipment availability, including customized reports to help streamline logistics processes and improve container management.
Ability to easily make equipment reservations through REZ-1's application.
REZ-1 tailored reports delivered via email.
Ability to reserve equipment in advance through REZ-1.
Ability to secure equipment at Union Pacific "paper" ramps and drop lots.
Competitively priced rail service and the advantage of unbundled pricing.
Rail line haul charge separated from equipment use rate.
The most environmentally responsible and highly efficient way to ship. Union Pacific trains can be double-stacked and can move the equivalent of 280 trucks--resulting in significant cost savings.
For UMAX-related questions, contact the Union Pacific Intermodal Equipment Team.