Why Union Pacific Intermodal
Have aggressive timelines? Need a controlled environment? Need to cross a border or even an ocean? Union Pacific can handle it all. We have developed the largest network, the best service, the most capacity, and premium value-added solutions to meet your needs better than anyone else.

Network
The largest intermodal network in North America with the most direct rail services from coast to coast.
Connections to the most markets reaching the most locations through a broader service network.
The most access points to Mexico and Canada with the fastest direct service to and from key markets.
Access to all West Coast and western Gulf Coast ports with on-dock or near-dock service.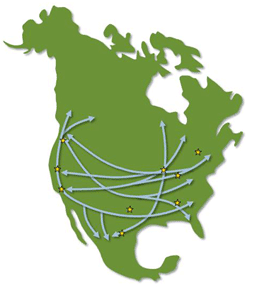 Service
The most truck-competitive lanes getting your products to more destinations without increased transit times.
Faster transcontinental services through seamless connections with eastern railroads.
Consistent and predictable services through truck-competitive reliability.
Dedicated sales and service teams to serve shippers, motor carriers, ocean carriers and other intermediaries.
Capacity
An industry-leading investment program with more than $1.1 billion invested in intermodal facilities since 2000.
The largest dedicated container fleet for domestic customers with more than 100,000 containers offered exclusively by Union Pacific and our partners.
EMP is a domestic interline container service offered by Union Pacific and Norfolk Southern, along with various agent railroads. The EMP fleet includes more than 40,000 53-foot containers and chassis which serve most major U.S. cities.
UMAX is a domestic interline container service offered by Union Pacific and CSX. UMAX features more than 600 service lanes with a fleet of more than 40,000 53-foot containers.

Solutions
Our Mutual Commitment Program provides the shipper with year-round guaranteed capacity and consistent pricing.
Door-to-door services from Streamline with simple, full-service solutions for managing wholesale door-to-door shipments.
Mexico products with three ways to get your products across the border quickly and hassle-free.