Union Pacific Requiring Facial Coverings in All Public Settings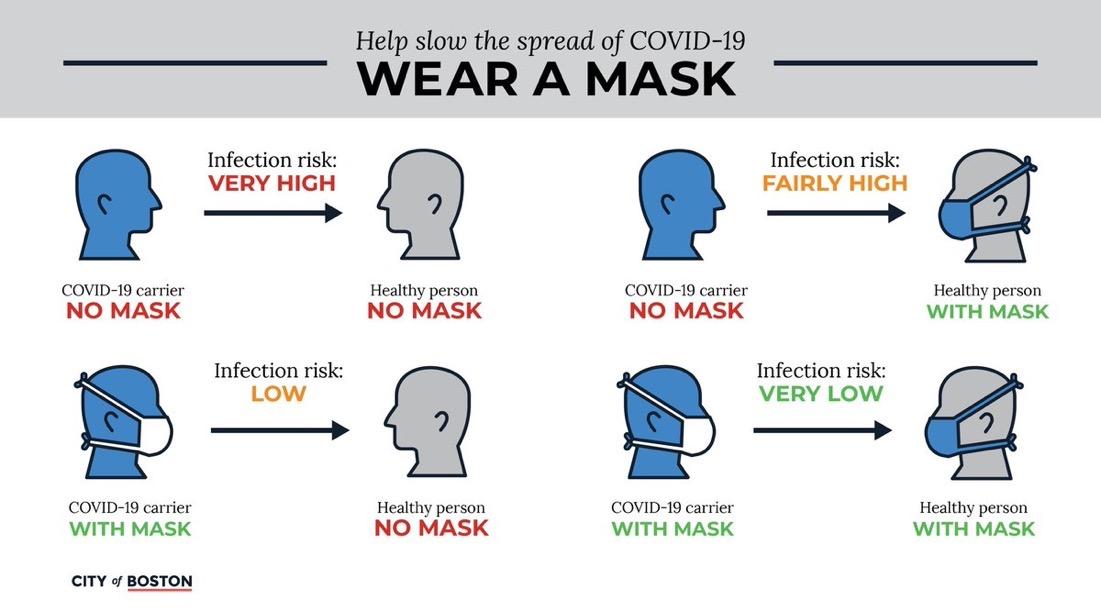 In light of continued COVID-19 viral transmission guidance, Union Pacific is now requiring the use of facial coverings for all employees in public settings at work.
"The bottom line is that research results are mounting to show that the COVID-19 virus is spread more by respiratory droplets from person to person than by contact with surfaces," said Dr. Laura Gillis, chief medical officer and general director-Workforce Resources. "This latest study reinforces the huge potential impact face coverings can have on our transmission rates. As UP employees, we need to be good community partners and be diligent about wearing our face coverings to protect ourselves, co-workers, families, and communities."
In its continued effort to limit the spread of COVID-19 and consistent with Centers for Disease Control and Prevention (CDC) guidance, UP requires the following:
All employees and contractors riding or working in a company or contractor vehicle and/or work equipment with more than one person are required to wear a face coverings at all times when in the vehicle.
All employees are required to wear face coverings in public areas where social distancing may not always be possible, including but not limited to:

All crew rooms including shanties, trailers, warehouse areas, shop floors and other locations where employees report to duty regardless of the number of individuals in the area.
All break rooms, coffee bars or other areas where employees may congregate during breaks or shift changes regardless of the number of individuals in the area.
All hallways, stairways, elevators or other public locations in company buildings at all times.
On locomotive cabs when either the conductor and/or engineer are not seated.
At job briefings or other employee gatherings receiving instructions or other job related information when social distancing is not possible.

All employees are required to wear face coverings during normal work activities when social distancing of 6 feet or greater is not available.
All employees will be required to wear face coverings when required by government emergency orders including state and local orders.
Failure to comply with this policy may result in disciplinary action. Employees may report policy violations to their manager or the safety hotline.
In certain scenarios, field supervisors and employees should work together to identify situations or work duties where masks could cause a potential safety hazard. In these situations, managers may use their best discretion as to whether or not a mask is required and should report any changes to the safety hotline.
As employees consider the CDC recommendation and decide how they will integrate the use of these cloth face coverings into their lives at work and other activities, please follow the CDC recommendations for Do-It-Yourself coverings.
Please:
Do Not: Leave facial coverings where it could contaminate others or surfaces.
Do Not: Reuse facial coverings without laundering daily or disposing properly. A COVID-19 transmission could occur should coverings become contaminated with the virus, not properly cleaned or disposed of, and be handled by someone else.
Ensure that facial coverings do not interfere with communications.
Ensure that facial covering material has appropriate language and/or design, per UP Dress Code Policy.
Employees must continue to follow UP guidelines relating to COVID-19:
If you are sick, stay home.
Maintain appropriate "social distancing" of six feet.
Wash your hands frequently with soap and water for at least 20 seconds or use an alcohol-based hand cleaner if soap and water are not available.
Avoid touching your nose, mouth, eyes and face.
Use a tissue when you cough or sneeze and throw the tissue away, or cough or sneeze into the crook of your arm. If you sneeze or cough into your facial covering, you may wish to replace it with a fresh one. Properly discard the soiled covering.
Keep frequently touched common surfaces clean.
Clean any shared workspace before beginning work.
Maintain a healthy lifestyle, getting plenty of rest, staying hydrated and eating wholesome food.