When visitors and others would drive into downtown Coffeyville, Kansas, from the west, they would pass an empty parking lot and the remains of a business that burned down nearly 10 years ago.
It wasn't the most welcoming gateway into this southeastern Kansas town. But now, thanks to two donations totaling $112,000 from Union Pacific's Community Ties Giving Program, the area is being transformed and anchored by a new "Union Pacific Park."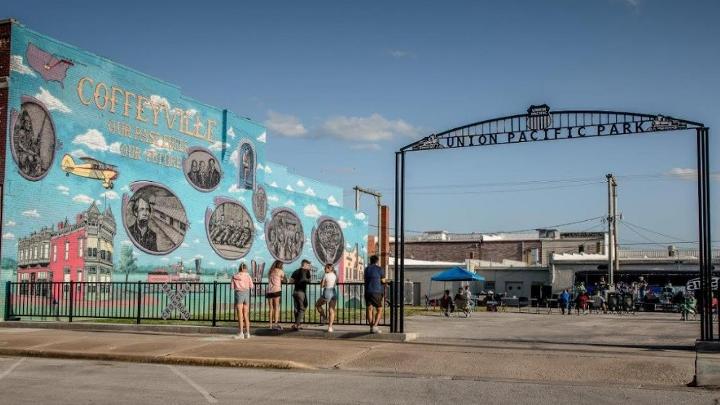 "We have some great parks here, but we wanted something in the heart of downtown where people would want to gather," said Samantha Kudrick, Director of Community Services for the Coffeyville Area Community Foundation.
Union Pacific made its first donation of $25,000 to the park in July of 2020. That initial donation helped fund an impressive iron fence built by a local craftsman, which is shaped into an arch and stamped with the park's name. The first phase of the project also provided for a bench held up by train wheels and a mural painted on an old building referencing key personalities and historical events in Coffeyville.
The grassroots group leading the effort known as "Coffeyville's Reawakening" was initially going to wait to start on the park's second phase until sometime in the future when more funding was in place. However, they didn't have to wait long.
Late last year, Union Pacific's Community Ties Giving Program donated an additional $87,000, allowing the group to start on the project's final phase, which includes landscaping and electricity for future concerts, food trucks and lighting.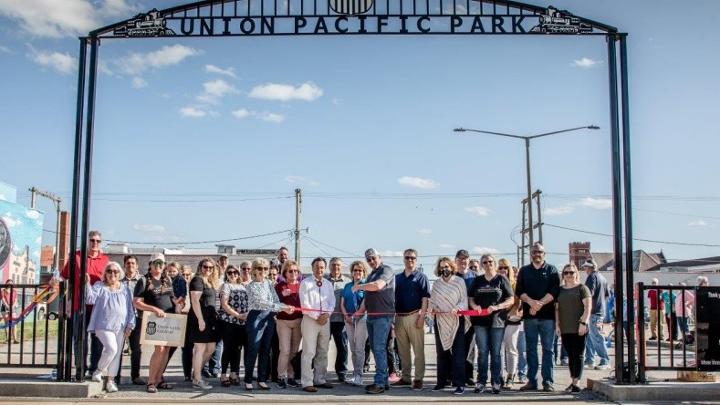 "Coffeyville is one of our valued railroad communities and we are so honored to be a part of a project that the entire community can enjoy," said Ben Jones, senior director-Public Affairs, Corporate Relations, based in Kansas City, Missouri.

The park's railroad theme originated with Bill Davis, a resident and retired Union Pacific locomotive engineer. When he heard about the group's plans to develop a park near downtown, he suggested a railroad theme to honor the role the industry has played in the community for more than 100 years.
The southeast Kansas community has an active terminal with lines running to Van Buren, McAllaster and Kansas City, and hundreds of its residents work for the railroad.
Subscribe to
Inside Track
A ribbon-cutting ceremony was held in April of 2022 for the park, with more than 200 residents in attendance, many of them current or retired railroaders. With the help of Union Pacific's second donation, leaders hope to finish the new work by Labor Day.
"The park honors the railroaders who have lived and worked here," Davis said. "It also shows Union Pacific takes pride in helping to develop this community."