Every day, Kia Patterson races against a nonstop clock – and she wouldn't have it any other way.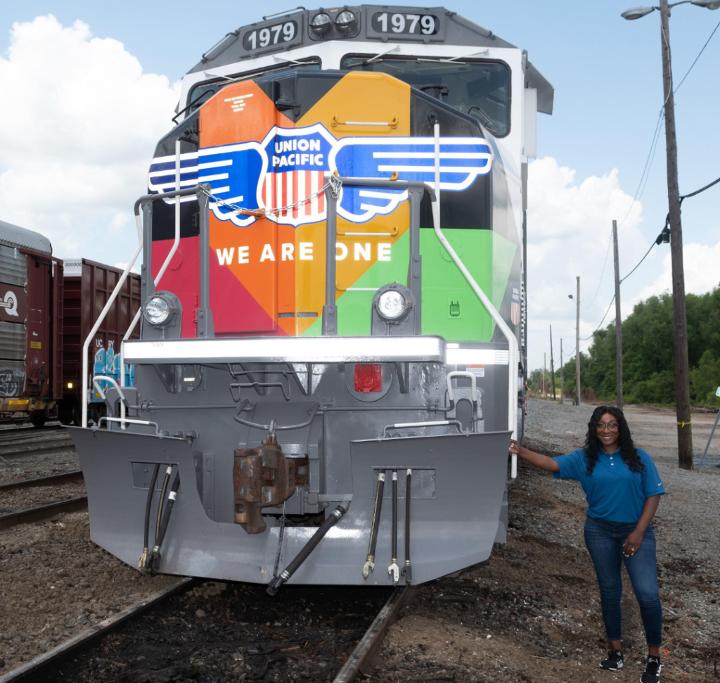 Patterson, manager-Safety Reporting and Compliance in Transportation, marked her 10-year Union Pacific anniversary in January, celebrating a career that's taken her on a journey around the railroad. During her first five years, she held several asset management roles in the Finance Department.
Then in 2017, Patterson advanced into a new arena – UP's Operating Department.
"Kia is very adaptable," said Bobbi Johnson, senior director-Operations Support, Transportation, Southern Region. "She's transitioned through several new UP roles. Each time, she successfully used her skillsets to learn and do well in her new position."
After transferring to the field, Patterson managed various Southern Region Operating initiatives, supporting the Gulf Coast and Houston service units.
"During Hurricane Harvey, Kia was here in the middle of the night working to get the Spring, Texas, generator back online," Johnson said. "As the Spring headquarters building manager, she provided contractors with hands-on troubleshooting and managed internal resources to ensure we didn't lose our operating command center."
"Kia is a strong woman in field operations."
Subscribe to
Inside Track
In her current role, Patterson supports safety and compliance reporting for all seven Southern Region service units, requiring her to quickly and accurately analyze data trends for internal and external reporting.
"Safety is integral to everything we do on the railroad," Patterson said. "I'm behind the scenes reviewing safety data, ensuring accurate and timely statistics for daily report outs to the Southern Region and our entire network."
To acquire the best information possible, Patterson regularly collaborates with Omaha's Safety team, Transportation, Engineering, and Mechanical's Locomotive and Car departments to keep UP compliant with regulatory standards.
"My job is time sensitive, so having a rapport with other departments helps tremendously," Patterson said. "We must work together as a team to ensure UP is reporting per FRA guidelines."
Her collaboration skills have been noted – and appreciated.
"Kia is always helpful and willing to go the extra mile to help others," said Larry Vogel, senior manager-Operating Practices, Transportation. "She performs her work with such professionalism."
Her days vary.
"Whether it's maintaining safety records, providing data for Federal Railroad Administration (FRA) audits, creating reports for field management, ensuring FRA inspection closeouts or completing federally mandated incident reports – I stay busy," Patterson said.
Despite the quick pace of her job responsibilities, Patterson makes time for her co-workers.
She is a member of three Employee Resource Groups (ERGs): LEAD, BEN and UPVETS.
"My advice for new railroaders is to get involved," Patterson said. "Each of these groups has taught me so many transferable skills. There are numerous opportunities to grow and learn – do not ever stop learning!"
Patterson's favorite thing about being a railroader?
"Every day differs from the last; we handle change and are built tough, but most importantly, we are a family," Patterson said.