Union Pacific and nonprofit Safe Kids Worldwide teamed up to drive home an important message for families in a new rail safety video: Model rail safety, because 'Nothing' is worth more than your child's life.
Union Pacific is proud to partner with Safe Kids Worldwide through a second multiyear partnership demonstrating the railroad's commitment to the safety and wellbeing of communities within its operating footprint. Safe Kids coalitions conduct transportation safety education programs nationwide regarding child pedestrian, school bus, bike, railroad and passenger safety.
Two Union Pacific rail safety advocates made their acting debut during the recent San Antonio, Texas, video shoot: Conductors James Jackson Jr. and David Welch.
"We all play a role in rail safety," Jackson said. "Together, we can make a difference in the communities where we live and work."
For Welch, seeing the project come together was a memorable and meaningful experience.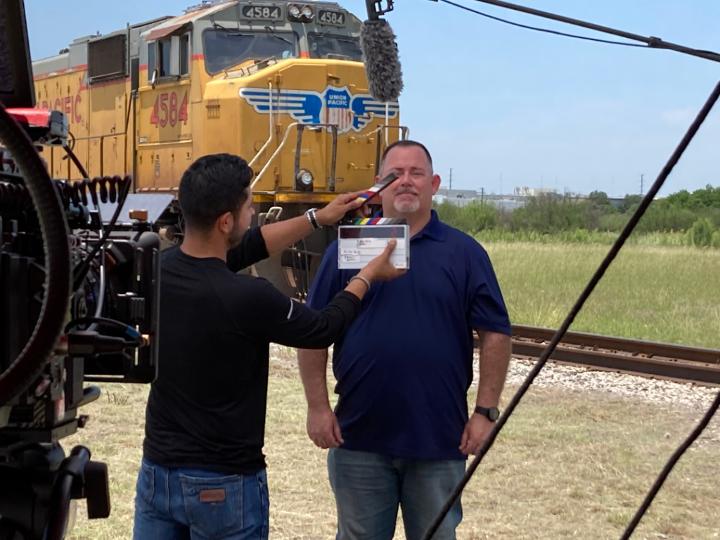 "If the video helps even one person remember to do the right thing at a railroad crossing, it was all worthwhile," he said.
The Texas train crew professionals were selected for their great work exhibiting community engagement and a safety mindset.
"David has been a long-time public safety advocate in the Houston area and one of the world's best team players," said Buck Russel, senior supervisor-Public Safety, Safety. "James was nominated by Total Safety Culture (TSC) Facilitator Justin Winston; we knew he would be a great fit to represent Union Pacific and speak about rail safety."
Russel gave an additional shoutout to the employees who helped behind the scenes, particularly the South Texas Service Unit TSC team which helped participants stay safe throughout filming.
Safe Kids Worldwide also was appreciative of the collective effort.
"A huge thank you to Buck, David, James and the entire Union Pacific team, who were amazing collaborators on this project from beginning to end," said Torine Creppy, president, Safe Kids Worldwide. "The Union Pacific crew went above and beyond to help produce a compelling and authentic video that will hopefully help us prevent more injuries and save more lives. Just another one of the many reasons why Union Pacific is a great partner for safety."
Rail Safety Reminders: Model Safe Rail Behavior for Your Family
Walking on, or along, train tracks is dangerous.
Trains are quieter, wider and faster than we think.
A train won't be able to stop in time, even if the crew sees you on the tracks.
Never try to beat a train.
Only cross the tracks at a designated crossing.
For more rail safety resources, visit Safe Kids Worldwide.
Please share this video on your social media channels to remind friends and family, the best headline is 'Nothing.'
Safe Kids Worldwide is a nonprofit organization working to prevent childhood injury, the number one cause of death for children in the United States. Since 1988, Safe Kids has helped reduce the U.S. childhood death rate from unintentional injury by 60%. Working together, we can do much more for kids everywhere.