As an experienced operations manager and off-the-clock beekeeper, Nick Sahinen, manager-Train Operations, Baytown, Texas, holds air, water and wildlife quality in high regard. This environmental stewardship earned him recognition from Union Pacific, as well as the Association of American Railroads (AAR).
Subscribe to
Inside Track
Union Pacific named Sahinen its 2023 Chairman's Environmental Award recipient, the railroad's highest distinction for environmental stewardship. Sahinen's recognition also makes him Union Pacific's John H. Chafee Environmental Excellence Award nominee, the AAR's highest environmental honor.
Using advanced visualization tools, Sahinen actively tracks, identifies and shuts down idling engines left running or needing maintenance. These actions help reduce air emissions while effectively educating those around him on environmental stewardship – as well as contributing to Union Pacific's efforts to reduce absolute Scope 1 and 2 greenhouse gas (GHG) emissions and GHG emissions on a well-to-wheel basis from locomotive operations 26% by 2030 from a 2018 base year.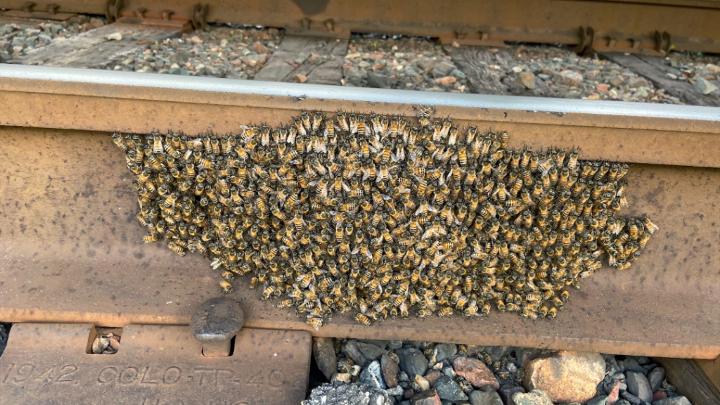 Much of Sahinen's work occurs through the lens of beekeeping, a hobby enabling him to educate others about the environment and even save some track-dwelling swarms. In all, Sahinen has proven a strong commitment to environmental stewardship in both his personal and professional pursuits.
"It was nice being recognized. Everyone breathes this air, and I owe it to the people working here and the neighboring communities to do my part where I can," Sahinen said.
2023 Chairman's Environmental Award finalists:
Lou Oborny Jr., manager-Mechanical Engineering
Jeff Repass, water services foreperson
John Machain, water services foreperson
Joseph Langley, machine operator
Lee Koehler, manager-Maintenance of Way Equipment Operations
Robert Jacks, manager-Locomotive Maintenance