Blazing new trails and leading by example are nothing new for Debbie Schrampfer, Union Pacific's chief diversity officer and assistant vice president, Workforce Resources.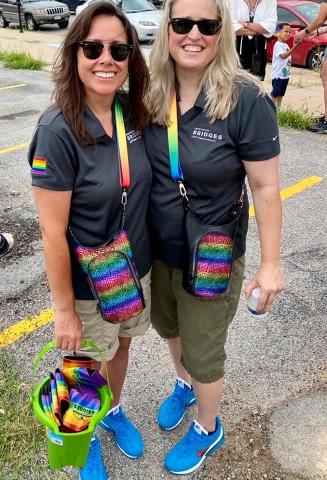 So, it should come as no surprise she's being honored for exactly that by International Railway Journal (IRJ), marking the first time the publication has recognized women in the rail industry. The 2022 Women in Rail Awards honor 12 women in the global rail industry, selected for their leadership, vision, innovation and accomplishments. Schrampfer is only one of two individuals chosen from the U.S.
Union Pacific took a big step on its diversity and inclusion journey in August 2020, when the railroad promoted Schrampfer to her current role. As chief diversity officer, she leads a team focused on developing and implementing D&I strategies and promoting an inclusive workplace.
Her work is instrumental in UP earning a perfect score on the Human Rights Campaign's 2022 "Best Places to Work for LGBTQ+ Equality," the nation's leading benchmarking tool on corporate policies, practices and benefits pertinent to lesbian, gay, bisexual, transgender and queer employees. Union Pacific is the only Class I freight railroad earning a 100% rating on the list.
Since 2020, she's helped guide UP through national race relations issues, worked to destigmatize mental health, removed gender barriers in the Operating Department and continued to find new ways to honor our military employees.
Schrampfer's 21-year UP career includes leading employee communications and brand management in the railroad's Corporate Relations Department. She helped found UP's LGBT employee resource group, BRIDGES, and served as its first president, influencing companywide change through adding transgender health care benefits, extending domestic partner health insurance options and driving policy on anti-discrimination requirements in UP's supplier and corporate giving programs.

Subscribe to
Inside Track
In the peer-nominated award submission, Schrampfer is described as "being fearless in tackling the difficult questions of race relations and unconscious bias. She not only builds programs, but also builds people."
"We all have vastly different opinions on what diversity efforts should look like inside a workplace," Schrampfer said. "We need to keep the debate going. As long as we are focused on equity and demonstrate our opinions with kindness, we will get to the right place."
An Iowa native, Schrampfer lives in Omaha with her wife, Sherrie; dogs Howard, Sergio and Laszlo; and a cat, Artemis, who wishes she was the only pet.
Learn more from Schrampfer about Union Pacific's diversity efforts.