Jim Vena says one of his top goals as Union Pacific's newest chief executive officer is to make the Class 1 railroad the safest in North America, with top-notch customer service and best-of-its-kind operational excellence.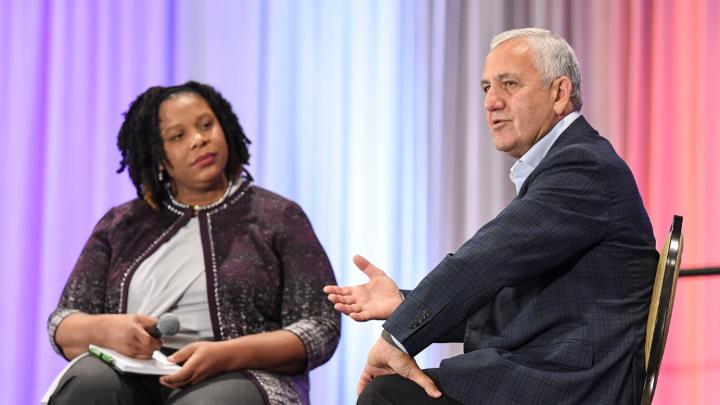 "This is a great company with a great opportunity to win," said Vena, who spoke Aug. 18 at Union Pacific's 2023 Black Employee Network (BEN) conference in Houston. "We're going to be second to no one."
Vena and members of the senior leadership team appeared on stage for the first time together since the lifelong railroader who started his career as a brakeman at Canadian National Railway assumed the helm at Union Pacific.
On Aug. 14, Vena was named chief executive officer, while longtime Union Pacific senior leader Beth Whited was promoted to president, becoming the first woman to hold that position in the company's history.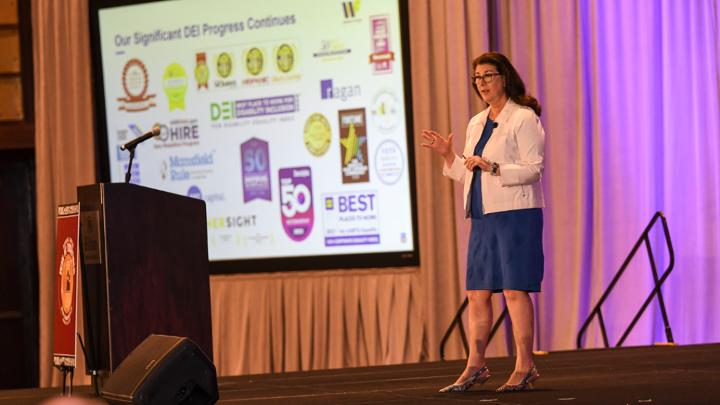 Whited, the railroad's former chief human resource officer, told BEN attendees Union Pacific has made great diversity and inclusion strides since setting a goal in 2020 to increase its people of color population from 29.4% to 40% by 2030 – today, that number has grown to 33.6%.
"It's important our workforce represents the communities in which we live and work," Whited said. "And, I'm 100% confident we're going to meet our goal."
The two-day gathering attracted more than 250 employees from across the railroad's 23-state network. BEN, the railroad's oldest employee resource group, formed in 1979 to recruit, retain and advance the careers of African Americans within the company. It is now one of 10 resource groups at Union Pacific.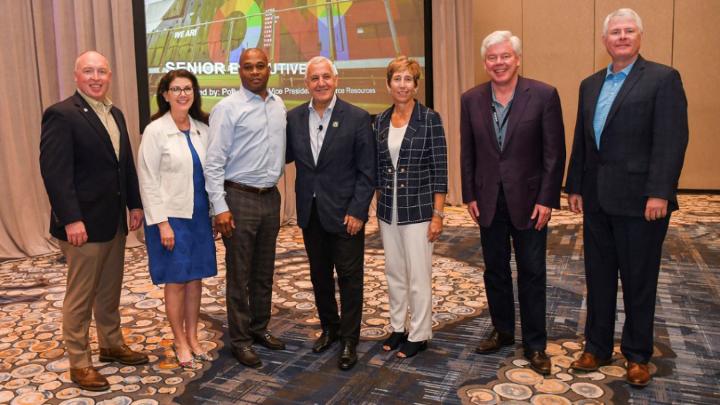 Vena, Whited and other key senior leaders including Jennifer Hamann, chief financial officer; Kenny Rocker, executive vice president-Marketing and Sales; Eric Gehringer, executive vice president-Operations; Craig Richardson, executive vice president and chief legal officer; and Clark Ponthier, senior vice president-Supply Chain and Continuous Improvement, attended the conference.
For Vena, the conference was an opportunity to reintroduce himself to his former colleagues and talk about his priorities, his management style and his belief that Union Pacific is a great company with a great future.
He joined the Union Pacific team in 2019 as chief operating officer and spent 2021 as a senior advisor for the company.
Subscribe to
Inside Track
He told the group he plans to focus on improving service and running an efficient railroad, all of which will translate into growth.
"We have a responsibility to deliver our customers the service we promised them," said Vena. "To do that, we have to be operationally efficient."
He spoke for about 45 minutes during a fireside-like chat, answering questions from Chief Communications Officer Clarissa Beyah.
Vena said he believes in letting people make decisions that are part of their job responsibilities, "driving decisions down to the people." He also believes it's important to make those decisions quickly and then execute them promptly.
"We're going to make decisions faster," he said.
More than 40 volunteers put together the large-scale BEN conference, which included training sessions on Union Pacific's commitment to winning together as a team. Participants learned more about the railroad's business strategy, including the importance of the entire team being on the same page and committed to operational excellence.
BEN members also held a key fundraiser for the Houston Food Bank, providing 3,333 meals – 4,000 pounds of food – to support the local community need.