Company Overview
To learn more about Union Pacific and its operations, visit the Sustainability page.
Building America Report
Climate Action Plan
We Are One
Union Pacific Railroad is the principal operating company of Union Pacific Corporation (NYSE: UNP). One of America's most recognized companies, Union Pacific Railroad connects 23 states in the western two-thirds of the country by rail, providing a critical link in the global supply chain. From 2013 to 2022, Union Pacific invested approximately $34 billion in its network and operations to support America's transportation infrastructure. The railroad's diversified business mix includes its Bulk, Industrial and Premium business groups. Union Pacific serves many of the fastest-growing U.S. population centers, operates from all major West Coast and Gulf Coast ports to eastern gateways, connects with Canada's rail systems and is the only railroad serving all six major Mexico gateways. Union Pacific provides value to its roughly 10,000 customers by delivering products in a safe, reliable, fuel-efficient and environmentally responsible manner.
Who We Are
VISION:
Build America for all generations by connecting our nation's businesses and communities to each other and the world.
PURPOSE:
The people of Union Pacific deliver North America's safest, most reliable and most efficient supply chain solutions.
VALUES:
Passion for Performance.
Passion, determination and expertise drive our safety, customer experience and financial results.
High Ethical Standards.
Our reputation will always be a source of pride for our employees and a bond with our customers, shareholders and communities.
Work as a Team.
We work together, embrace diversity and create opportunity for all. We promote an inclusive environment where people from varied backgrounds can be their best, reflect the communities where we live and work, and deliver a competitive advantage.
Fast Facts *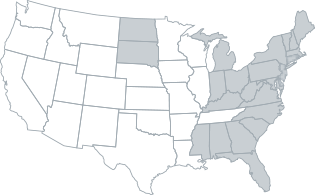 32,534
Route Miles in 23 States with 7 Border Crossings

8.2 MILLION **
Annual Carloads



30,000**
Railroad Crossings

* As of December 31, 2022 ** Figures are rounded