Community and Collaboration
Communicating with our stakeholders is important and we consider the needs, opinions and ideas of various groups that are affected by our business.
Customers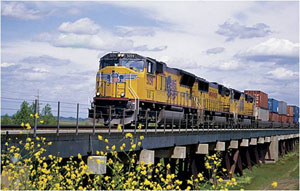 Providing excellent customer service requires that we first understand their needs. In addition to helping our customers take advantage of rail's fuel-efficiency advantage over motor carriers and the resulting emissions savings, we also collaborate on service parameters to optimize shipments. This includes minimizing empty rail car returns, matching facility requirements to a customer's service plan, and designing efficient car loading plans. These steps avoid wasted resources while allowing Union Pacific to provide service tailored to the customer's specifications.
Union Pacific also helps customers expand into new markets. One visible area where that happens is in the transportation of components for renewable energy providers. We were the first railroad to offer door-to-door transportation for the wind turbine manufacturing industry, and we continue to play an important role in supporting renewable energy by providing the wind energy industry with safe and sustainable transportation.
Community Involvement
Many of the communities throughout our system can trace their origins directly to a Union Pacific depot. Union Pacific actively works to bring environmental awareness to those communities. Union Pacific also partners with local, state, and federal first responders and emergency management organizations to help minimize the local impact of a derailment. This includes training local, state, and federal first responders to improve emergency responder awareness of hazardous materials transportation throughout the country.
California Air Resources Board
Union Pacific has worked with the California Air Resources Board (ARB) to reduce emissions and improve California air quality since the mid-1990s.
Efforts began with a first-of-its-kind commitment in 1998 to bring the then-most advanced and environmentally friendly locomotive technology to the South Coast Air Basin by 2010 and continuing through 2030. According to ARB, this effort would reduce locomotive NOx emissions in the South Coast Air Basin by 65 percent in 2010 compared to 1998 levels. Each year since 2010, we have submitted and subsequently received ARB's approval that Union Pacific met the 1998 Agreement requirements.
In 1999, Union Pacific began working with ARB to develop detailed emissions inventory and dispersion modeling data from its J R Davis Yard in Roseville, CA, which led to pioneering collaboration between government and business. ARB utilized that emissions data to produce the nation's first comprehensive Health Risk Assessment (HRA) of a rail yard in 2004. Given the beneficial information obtained from the 5 year evaluation, an agreement with the Placer County Air Pollution Control District to further reduce emissions from the Davis Yard was signed in early 2005. Union Pacific fully complied with that agreement by 2008.
Based on the initial successes of the programs at Roseville, ARB then brought the two California Class I railroads - Union Pacific and BNSF Railway - together to sign a second emissions reductions agreement in 2005 called the 'ARB/Railroad State-wide Agreement, Particulate Emissions Reduction Program at California Rail Yards'. That agreement, effective through 2015 and accompanied by annual reports documenting compliance with all provisions, was designed to reduce diesel particulate matter (DPM) by approximately 20 percent statewide and contained provisions for the railroads to install idle control devices, maximize use of Ultra Low Sulfur diesel fuel, complete detailed emissions inventories and modeling for 17 rail yards, and more.
Union Pacific also has worked with ARB and other organizations to evaluate technologies and alternative fuels for locomotives, including a 2007 Evaluation of Natural Gas-Fueled Locomotives.
Emissions inventory updates for California yards confirm the reductions at the local level. At five railyards, the 2019 data showed roughly 70% reduction in diesel particulate emissions since 2005.
SmartWay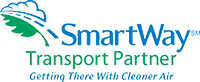 Union Pacific is a member in the SmartWaySM Transport Partnership, a voluntary collaboration between the U.S. EPA and the freight industry to increase energy efficiency while reducing greenhouse gases and air pollution.
SmartWay Transport Partners lead the way toward cleaner, more efficient transportation by adopting fuel-saving strategies. SmartWay Transport Partners are commercial, industrial and public sector organizations that commit to reduce greenhouse gas emissions and air pollution and to improve fuel efficiency of ground freight transportation. The EPA provides partners with benefits and services that include fleet management tools, technical support, information, public recognition, and, for exceptional environmental performers, use of the SmartWay Transport Partner logo.
Hazardous Materials Transport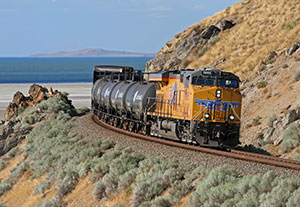 Railroads are the safest way to transport hazardous material, and the federal government requires railroad companies such as Union Pacific to use our locomotives and railroads to transport tank cars containing hazardous materials.
Ensuring that these tank cars arrive safely is a top priority. Even though the tank cars are not owned by Union Pacific, we do everything we can to secure cars that carry hazardous materials.
In addition to complying with regulations for the transportation of hazardous materials, Union Pacific takes voluntary measures to minimize the risk of hazardous material release. We typically inspect more than 5,000 of our customers' tank cars each year to ensure security and safety. We recognize customer accomplishments in minimizing the risk of releases in their tank cars. Together, The Dow Chemical Company and Union Pacific are working to enhance chemical transportation over the more than 160,000 miles of rail in the United States through a variety of innovative solutions and public-private partnerships. Union Pacific conducts emergency-response training to minimize the impact of a derailment on a community; in a typical year, our training reaches about 5,000 people.
UP has a nationwide 24-hour emergency hotline to report hazardous materials releases and other environmental incidents. Calls go to Union Pacific's Response Management Communication Center (RMCC), which immediately takes action based on the nature of the call. Additionally, UP has installed emergency notification signs at thousands of rail crossings. Each sign carries a unique Department of Transportation number that enables RMCC to identify the exact location and take action.
You'll find more information under Chemical Transportation Safety and Responsible Care.
Other Organizations
Union Pacific is a member of the GreenBiz Executive Network, a peer-to-peer learning forum for sustainability executives. The organization creates a dialogue for sustainability across the companies.
Since 1992, Union Pacific has been a member of the California Council for Environmental and Economic Balance (CCEEB), a coalition of business, labor and public leaders that advances strategies for a sound economy and a healthy environment. In addition, Union Pacific is a founding funder of FuturePorts.
Our Building America Report outlines other organizations where Union Pacific is a member.