Facilities
Union Pacific facilities range from large rail yards that process rail cars to large and small offices. At each location, our focus is to ensure they operate effectively, which translates to the most reliable product for our customers and the least waste possible.
Yards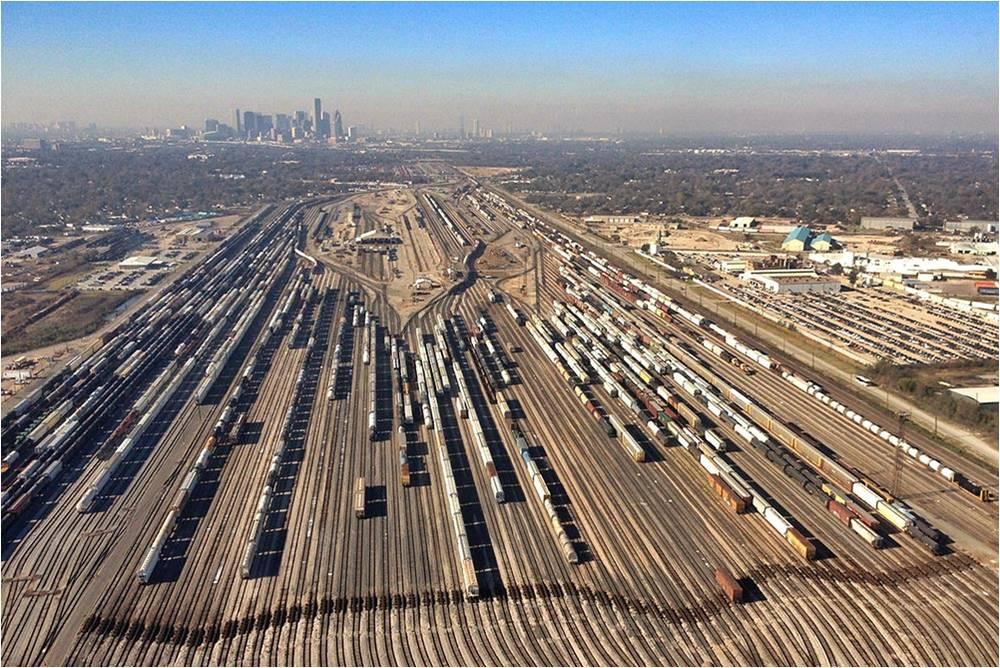 A rail yard's effectiveness impacts the company's operational success. Reducing the amount of time trains spend in rail yards reduces transit time and improves delivery reliability. Union Pacific is focused on optimizing yard performance through Precision Scheduled Railroading, measuring train processing metrics and identifying ways to improve performance.
Our teams work to increase train velocity and to deploy the UP Way, which focuses on employee engagement in continuous improvement. By changing Union Pacific's paradigm from "buy more assets" to "evaluate and improve the process," Union Pacific has eliminated waste, improved services and increased productivity. It has also minimized our environmental impact by reducing waste and conserving energy.
Distribution Centers & Terminals
Union Pacific streamlines equipment processing at intermodal and auto handling facilities across the system, resulting in reduced fuel use and fewer emissions.
Fast Facts
Union Pacific recycles oil, paper, cardboard, plastics, metal, e-Waste, railroad ties and more at facilities across America every day.
Our Intermodal terminals feature state-of-the-art technology to limit truck idling time. Driver scanning technology allows a truck to enter our facilities faster than ever, cutting each truck's processing time from several minutes to as little as 60 seconds. Our ICTF facility in Long Beach, California, installed the industry's first-ever hybrid electric crane to further reduce emissions. Union Pacific also has upgraded lift equipment engines in California to more stringent emission levels.
Our automotive terminals are equipped with charging stations to support electric vehicles moving to market. Our third party switching partners follow Union Pacific's fuel conservation engine shutdown guidelines. Our contractors, guards and haul away carriers use electric "gold carts" at many Union Pacific facilities. All initiatives add to our efforts to improve fuel conservation and reduce greenhouse gas emissions.
Shops
Employees at Union Pacific mechanical shops are responsible for the safe and efficient maintenance and performance of locomotives and rail cars. Our team operates these facilities with a focus on safety, standard work processes to avoid waste, and productivity.
Employees focus on scheduled and preventative maintenance and are responsible for train inspections at the initial terminal and after they operate every 1,000 miles. Detecting component defects before they become a problem on the mainline avoids derailments that impact safety, service reliability and customer commitments.
Union Pacific's shops are a focal point for resource management and manage waste volumes and recycling by coordinating resource consumption and waste management.
Water Management
Union Pacific uses relatively little water for its operation. Primary uses are as a locomotive coolant, washing equipment, vegetation protection to minimize fire risk, and drinking water. The company typically consumes 800 million gallons of water annually.
We conserve water by analyzing accounts, researching irregularities, and making changes and repairs to eliminate unnecessary use. Our team focuses on using data to identify and address consumption changes, which might suggest a leak or other issue.
The company commits to complying with national water quality standards and regulations. Union Pacific was the first railroad to complete a Carbon Disclosure Project (CDP) Water report in 2014 and continues to report to CDP annually.
We built infrastructure and processes to discharge effluent wastewater safely. To meet federal, state, and local compliance obligations, and minimize our impact on the environment. We operate and maintain about 90 wastewater treatment facilities across our system. Our wastewater treatment facilities are designed to capture and process wastewater from our fueling and maintenance operations. We typically process 380 million gallons of water a year through these permitted and regulated locations. We treat and discharge wastewater in accordance with state and federal requirements and regularly report per permit requirements.
Union Pacific is strengthening its wastewater infrastructure by investing in new industrial wastewater treatment plants, which indicate ultrafiltration systems. Additionally, we completed a $13 million renewal and replacement project of the collection system in Roseville, California, the largest freight rail yard west of the Rocky Mountains. This work is believed to be the largest industrial wastewater collection system renewal project in U.S. freight rail history.
To protect waters of the United States from stormwater (SPCC) runoff, Union Pacific has implemented and maintains Stormwater Pollution Prevention Plans at about 270 facilities and about 140 Spill Prevention, Control, and Countermeasure plans. The plans cover all facilities where maintenance of locomotives and rail cars occurs and identify inspections, maintenance, and best management practices to ensure the stormwater that contacts our facilities is not contaminated.
The company self-reports effluent exceedances and routinely completes a post incident analysis to investigate root causes and implement corrective actions as part of the environmental policy's commitment to continuous improvement.
Union Pacific Center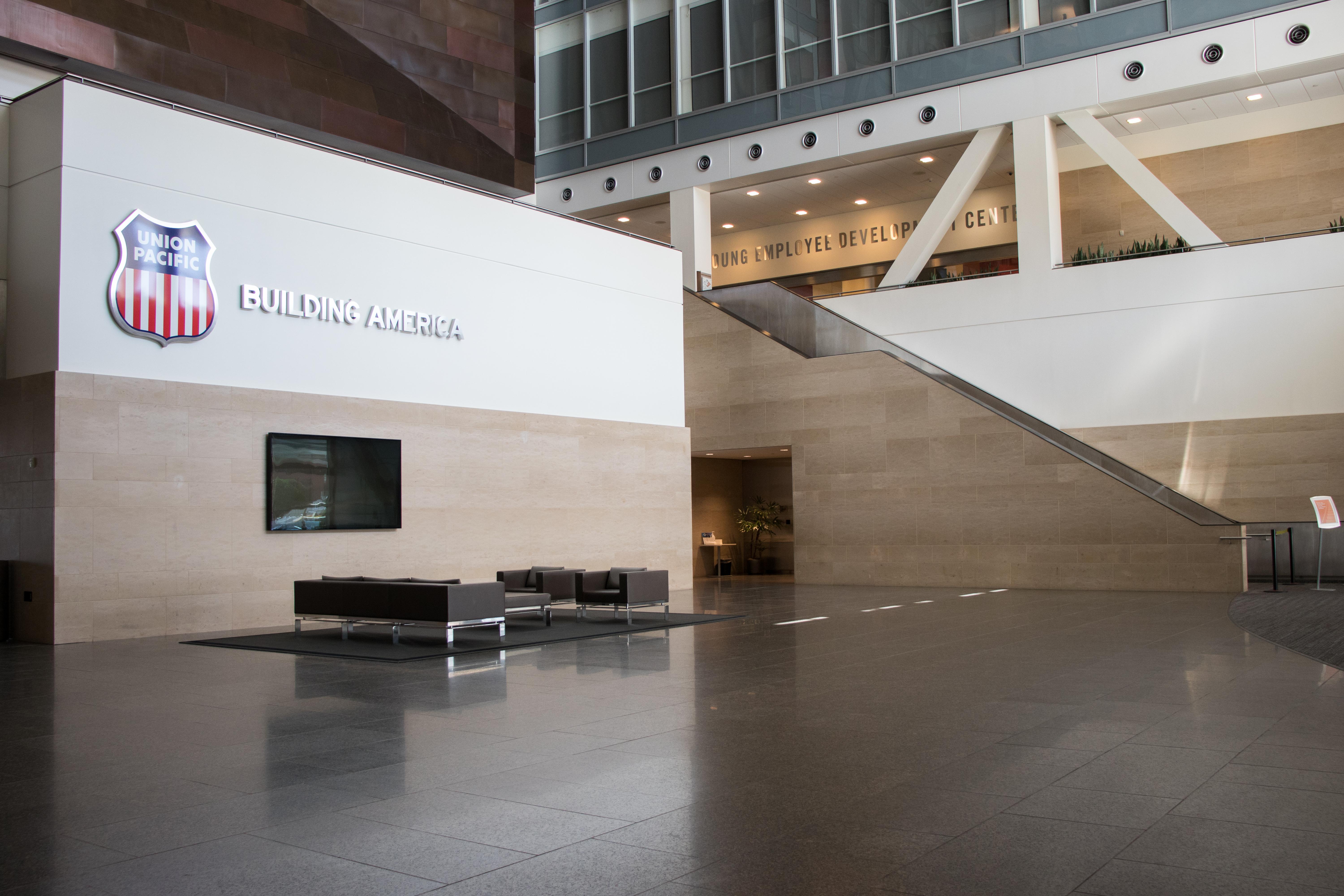 Our corporate headquarters, Union Pacific Center, in Omaha, Nebraska, was designed with efficiency and sustainability as key guidelines. For example, a central atrium provides natural light, reducing the need for artificial light and electricity demand. An under-floor heating and cooling system keeps employees comfortable in Nebraska winters and summers while using less energy than more conventional climate control systems. The building is equipped with a sophisticated air-handling system that uses a central computer to control fan speed depending on the number of people in the building, ensuring that climate control is based on the needs of people rather than the thermostat presets.
Since its opening, the EPA has awarded Union Pacific Center its Energy Star designation. The Department of Energy recognized our headquarters with an Energy Innovators Award.
Harriman Dispatching Center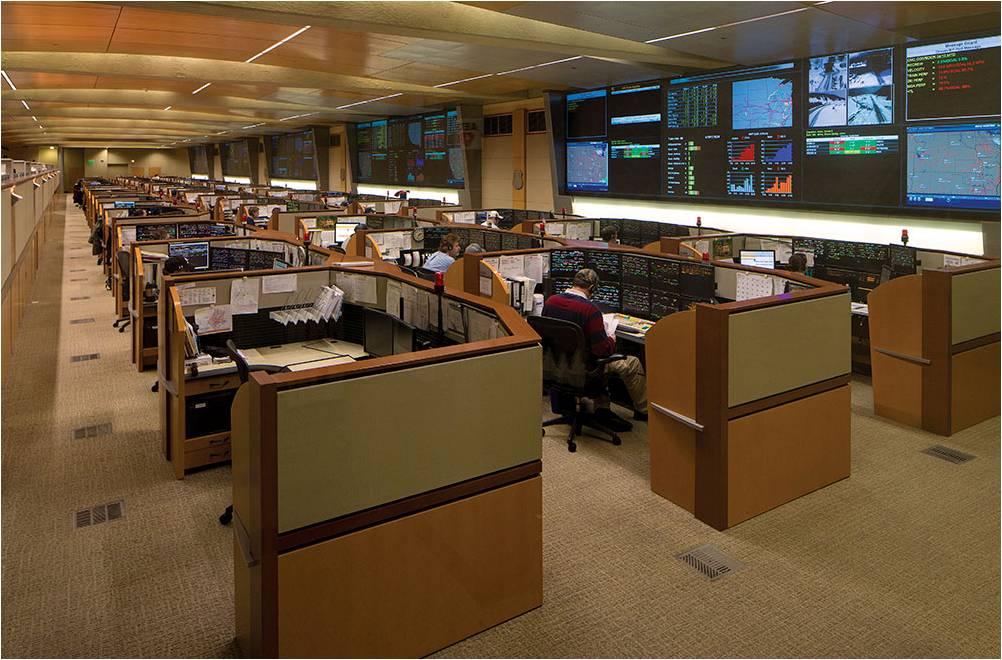 Managing trains carrying our customers' goods requires precision and skill. Union Pacific train dispatchers are responsible for the safe and efficient movement of trains across the rail network. Employees at the Harriman Dispatching Center in Omaha and several satellite dispatching locations monitor and manage train flow across the system.
The Harriman Dispatching Center is housed in an historic brick building constructed in 1891 as a freight house. Nearly 100 years later, the freight house was repurposed as the nation's first centralized dispatching center. A reinforced concrete bunker houses the train dispatchers, their computerized equipment and the train management team.
An extensive remodeling project in 2007 brought improvements: high-efficiency lighting, a sound-absorbing "acoustic cloud" ceiling constructed from renewable resources, and state-of-the-art air handling equipment utilizing ultraviolet antibacterial processes used in many hospitals. Heat is provided by heat-reclamation equipment, no supplemental heating is required.
Energy savings is not limited to just the central office. For instance, dispatchers traditionally have controlled switch heaters, which allow the use of power switches in snow and ice conditions. Automated activation/deactivation based on temperature and moisture sensor readings is replacing manual operation, saving money and natural resources.